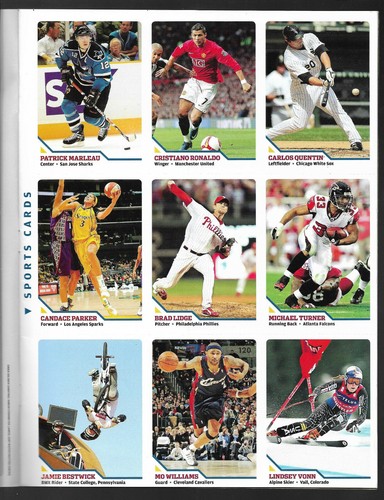 Price: 119.95 USD
Card Details:
SI Kids May-2009 LINDSEY VONN Rookie Card-Sheet/Magazine Skiing+C.RONALDO Soccer




SI Kids 5/2009 Lindsey Vonn & Cristiano Ronaldo Rookie Cards-Sheet/Magazine…

NOT JUST THE SHEET… THE ENTIRE MAGAZINE!!!
(May 2009) Vonn & Ronaldo SI for Kids cards still attached w/in
Original Issue Magazine as noted in title and pictured in scan. Cards,
Magazine, & Sheet are in excellent condition w/ mailing label on front… Add'l info available upon request.
A rare
original/authentic May 2009 Sports Illustrated for Kids FULL MAGAZINE
with the Vonn & Ronaldo Rookie Cards still intact in sheet attached to magazine. The Magazine has a tight fitting cover and has light wear & has been lightly read. The Vonn & Ronaldo cards themselves are in good condition and would have sharp corners with no noticeable creases if separated (they appear well centered left to right and top to
bottom w/ adjacent cards along edges at perforation lines ).  See scans for further details. 
Info on SI for Kids Cards: Sports
Illustrated for Kids (SIFK) trading cards have been produced since January of
1989.  Sports Illustrated began producing
a "kids" version of its magazine at that time which are still produced and
flourishing today. SIFK cards have been inserted into each issue every month
since that inaugural issue. They 're printed on a light cardboard stock paper
w/ perforated edges for separation purposes (IT IS IMPORTANT TO NOTE THAT
GRADING COMPANIES WILL NOT GRADE THESE CARDS UNLESS THE PERFORATED EDGES ARE
PRESENT- OTHERWISE THE CARD IS CONSIDERED "CUT"). They are strictly
limited to a print run in the amount of issues published by the magazine that
month. Thus rendering them significantly less produced collectibles than their
traditional trading card counterparts manufactured in much larger quantities.
There are nine cards per sheet w/ a select few issues containing an add'l four
or "bonus" nine card insert sheet included. Since SI for Kids focuses
on ALL sports, some of the less "mainstream" sport athletes are featured on
these cards before any other trading cards! Some of the standout stars which
are depicted on these cards have no other trading cards of them at all- licensed
or otherwise. Many hobbyists in the industry see continued value for these
cards in the future, especially since the 1996 Tiger Woods SIFK card put the
brand on the map! SI for Kids cards are becoming increasingly more difficult to
find out in the marketplace than ever before.
Shipping is FREE w/in the USA.  Thanks for viewing and have
a great day!!!