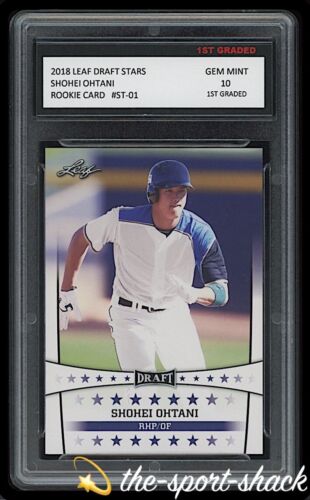 Price: 33.99 USD
Card Details:
Shohei Ohtani Rookie Card Leaf Draft Stars 1st Graded 10 L.A. Angels MLB 2018




🌟
🌟2018 Shohei Ohtani Leaf Draft Stars 1st Graded 10 Angels MLB Rookie RC Card Hot
🌟🌟
– ALL CARDS ARE AUTHENTIC & ORIGINAL
– CARD GRADER: 1ST GRADED
– ENCAPSULATED FOR LIFETIME PROTECTION
– FAST AND FREE SHIPPING WITHIN 24 HOURS OF PURCHASE
– FRIENDLY CUSTOMER SERVICE TO ASSIST WITH QUESTIONS
RETURN POLICY
Returns are only accepted if an item is misrepresented in the auction title, description, images, email, or phone communication. Buyer's remorse is not a valid reason for return. We strive to be reasonable in the event of a disagreement and ask that buyers afford us the same level of fairness. Misrepresentation of an auction item is exceedingly rare.
We at The Sport Shack are not professional graders so we trust in the reputation and opinion of 3rd party professional graders. Professional grading is subjective and different 3rd party graders will often disagree over the grading on a single card. Such a disagreement is not a justifiable reason for a return, and buyers using this method as a means of returns will be blocked from future buying.
Our responsibility is the accurate description and delivery of the item advertised, not to guarantee how a graded card will be assessed by different grading company. Any issue a buyer has with a card's professional grade should be addressed with the company that graded the card. Please read thru item careful before bidding.