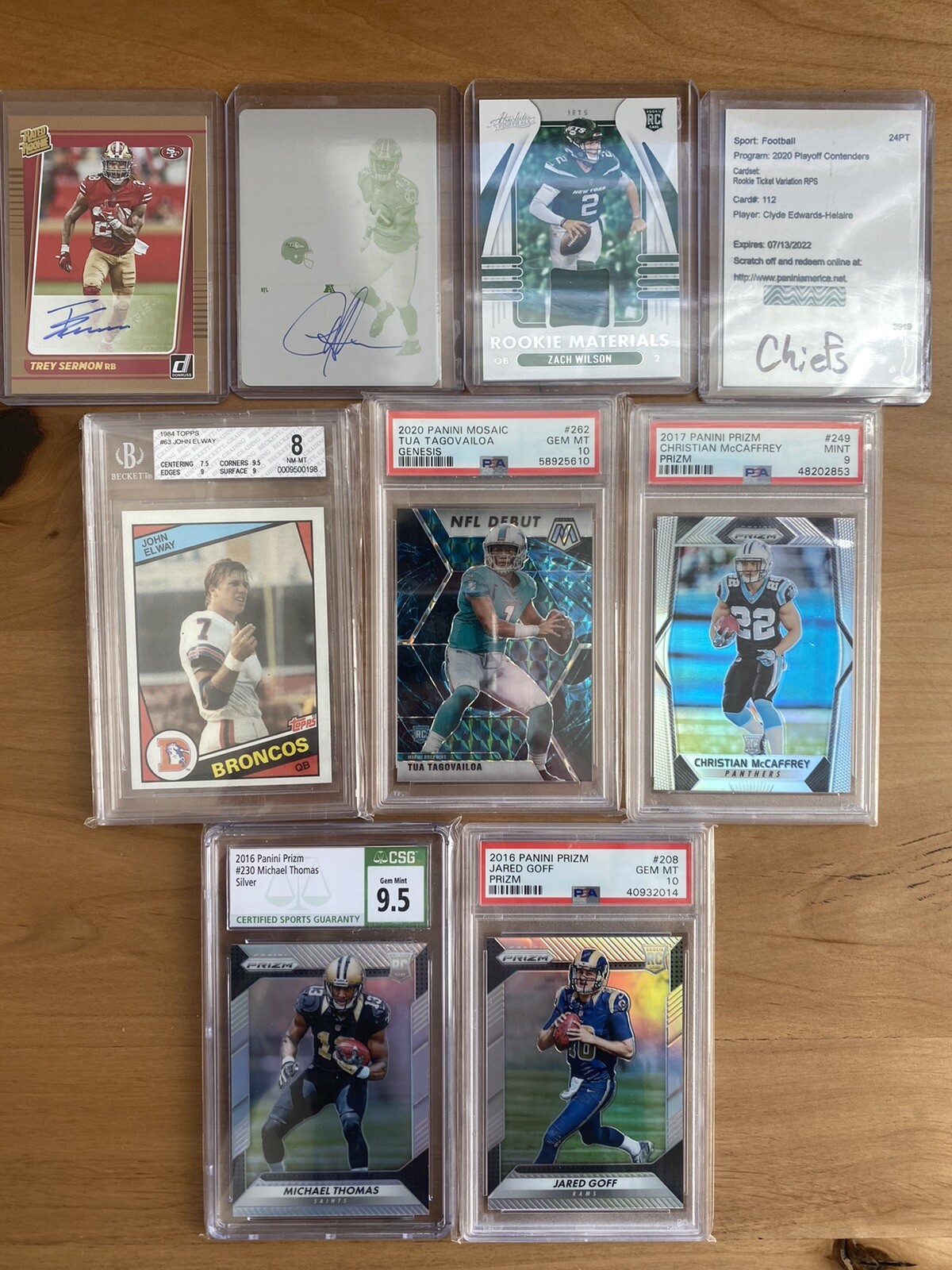 Price: 9.99 USD
Card Details:
NFL Football Hot Pack-THE SANTA PACK-Auto-Mem-5 Rookie-15 Cards-RPA-SP-Prizm-1/1
The SANTA NFL HOT PACK
Christmas Chase OF THE CENTURY!!
I am doing this hot pack as I am going onto college, and need a fast and easy way to sell off the majority of my NFL collection.ALL PROFITS GO TO MY COLLEGE FUND!!
MY FIRST NOTE…
IF YOU ARE NOT SATISFIED YOU WILL GET YOUR MONEY BACK!!
*I cannot take back the hot packs if you are not satisfied (I.E. not hitting a "Big" card, etc.) I am always more than happy to work something out though…I LIKE MY POSITIVE FEEDBACK!*
Tired of other 'Elf' Hot Packs that give you crap? Get the gift that keeps on Giving!
It's the most wonderful time of the year…Time For giving, receiving, and finally SPORTS CARDS!!
Give this present to your loved one, spouse, child, or friend…you cannot go wrong with this Hot Pack.
What do I get for my $10?
You will Receive:
-Your Money Back in card Value!
-At Least 15 Sports Cards of Top NFL Players
– At LEAST 5 of the cards will be Rookies from past years (2020-21 Mainly)
-ALL CARDS WILL BE SLEEVED (That's $1 off the top in sleeves alone!)
– MOST cards will be from past years (2019-2021)
-A 1 in 3 chance at Autographs, Memorabilia, or RPA Cards
-Numbered Rookies and Base cards are inserted RANDOMLY!!
In every pack there will be multiple players from the list below:
Justin Herbert | Trevor Lawrence | Joe Burrow | Justin Fields | Tua Tungaviloa | Trey Lance | Jalen Hurts | Zach Wilson | Jordan Love | Mac Jones | Kyle Trask | Davis Mills 
Najee Harris | Clyde Edwards-Helaire | Travis Etienne | Jonathan Taylor | Trey Sermon | Cam Akers | Deandre Swift | JK Dobbins | Antonio Gibson | Javante Williams | James Robinson | Elijah Mitchell | Chuba Hubbard 
Jaylen Waddle | Chase Claypool | Jamarr Chase | CeeDee Lamb | DeVonta Smith | Jerry Jeudy | Rashod Bateman | Justin Jefferson | Kadarius Toney | Henry Ruggs | Jalen Reagor | Michael Pittman | Laviska Shanault | Elijah Moore | Tutu Atwell | Brandon Ayuik | Terrace Marshall Jr | Bryan Edwards | Chase Young | Micah Parsons | Jaycee Horn | Patrick Surtain | Kwitty Paye
REAL LIFE EXAMPLE:
I ordered a Santa Hot Pack for my son. I would receive the item happily, as it was shipped fast and safe. When my loved one (Son or Daughter) opens it on Christmas day, they will be excited to find a Tom Brady Card, as well as other well known players from the team. The real excitement will come however as the Rookies are reached and there is a Mac Jones ROOKIE card there! WOW CHRISTMAS DAY IS MADE!!!!
Now, sadly not all hot packs will be loaded with Mac Jones, Herbert, and other "Top" rookies. These cards are in the packs, but are inserted randomly from pack to pack.
How will they be shipped? 
Obviously, we want our cards to be safe. That's why all the contents of the hot pack will be shipped in a team bag, inside of a padded envelope! NO DAMAGE DONE HERE!
THANK YOU FOR LOOKING AND ENJOY! YOU WILL LOVE IT!