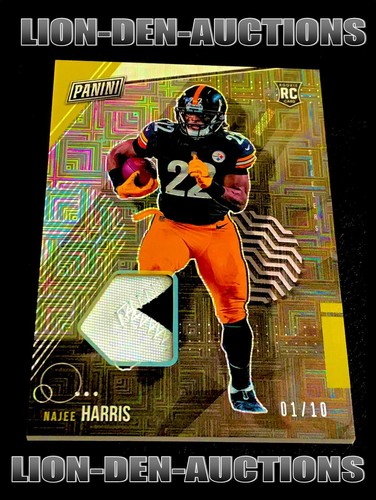 Price: 1,200.00 USD
Card Details:
NAJEE HARRIS 2021 THE NATIONAL SILVER PACK ELECTRIC SQUARES SSP RC # 1/10 1/1




LION-DEN-AUCTIONS
"THE HOME OF SOME OF THE WORLDS RAREST NFL FOOTBALL ROOKIE CARDS"
WE TAKE PRIDE IN BRING YOU ALL eBAY 1/1 FOOTBALL ROOKIE CARDS
ALL FIRST, LAST, PLAYERS JERSEY # OR OFFICIAL 1/1 STAMPED CARDS
WE HAVE RECENTLY OPENEND OUR VAULT…
FEATURED CARD:
NAJEE HARRIS 
 2021 PANINI
 THE NATIONAL
SILVER PACK
ELECTRIC SQUARES
1'ST PRO JERSEY RELIC 
TWO COLOR SWATCH
SSP
ROOKIE
Stamped#  1/10
FIRST PRO RELIC CARD MADE…PERIOD!
Super RARE!!  
Rookie Card
THIS IS THE FIRST CARD MADE WITH HARRIS IN A STEELERS JERSEY!!
Here it is! 
 This card represents the beginning
 of a true Super Star! 
We are open to trade…..
GOOD LUCK AND THANK YOU FOR LOOKING!
"PLEASE TAKE A MOMENT TO LOOK AT OUR OTHER 1/1 FOOTBALL ROOKIES
COMING OUT OF OUR VAULT ALL SEASON LONG…. 
LION-DEN-AUCTIONS