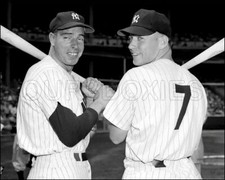 Price: 8.45 USD
Card Details:
Mickey Mantle Joe Dimaggio Photo 8X10 New York Yankees




MICKEY MANTLE – JOE
DIMAGGIO
OUR3DOXIES WATERMARK WILL NOT
APPEAR ON PHOTOGRAPH
BUY ANY TWO 8X0 PHOTOS AND GET ONE FREE
DO NOT ORDER OR PURCHASE YOUR FREE PHOTO
CHOICES ON EBAY
THIS OFFER IS BUY ANY TWO GET ONE FREE 
–  IT IS NOT BUY THREE AND GET ONE OF THEM FOR FREE
YOU MUST SEND US YOUR FREE PHOTO CHOICE TO RECEIVE
THE OFFER
TO RECEIVE THE OFFER YOU MUST READ THE TERMS
OF THE OFFER BELOW BEFORE ORDERING
---
This new
8X10 borderless photograph has been processed on
premium glossy photo paper. This photo will be shipped in a clear plastic sleeve and have
cardboard inserted in the shipping envelope to prevent bending.
If you purchase more than one 8X10 photo from us we will ship your additional photos FREE OF CHARGE
!!!  There is no limit on the combined free shipping.

Request
total from seller at checkout to receive a combined shipping invoice.

HISTORIC IMAGES REPRINTED

THIS
PHOTO IS BEING SOLD FOR PRIVATE USE ONLY

NO
COPYRIGHT IS EXPRESSED OR IMPLIED

We strive to offer the best images available in subject matter and
photo clarity. We would like to note clarity, glare, or other imperfections are mostly dependent on the original source
negative. Some of our photos are reprinted from negatives that are 50 years old or older and reflect the best quality obtainable. Negatives
that are fragile or are in poor condition have been digitized and cleaned up to produce the best photographic images possible.

LISTING
TERMS



The buyer of this item will
be contacted promptly and must reply or make payment within 10 days to
expedite transaction & avoid NPB filing. Items
purchased must be shipped together with initial order to receive combined
shipping. If your initial order has been shipped already any additional
purchases cannot be combined with your initial purchase. By purchasing this item you
acknowledge that you have read this listing, agree to the terms of the
listing, and agree to the terms of the free photo offer.
---
8X10 FREE PHOTO OFFER TERMS
OUR FREE PHOTO OFFER IS PURELY AN OPTIONAL GIVEAWAY ON
OUR PART. THE OFFER WILL ONLY BE HONORED IF YOU ASK FOR IT. THERE WILL BE NO
DISCOUNT AT CHECKOUT.
1) FOR EVERY TWO 8X10 PHOTOS PURCHASED YOU ARE ENTITLED
TO ONE PHOTO FREE OF CHARGE. PURCHASE FOUR PHOTOS AND YOU CAN RECEIVE TWO FREE
PHOTOS AND SO ON. THERE IS NO LIMIT ON THE FREE PHOTO OFFER.
2) THIS OFFER ONLY APPLIES TO OUR SINGLE 8X10 PHOTOS
(PHOTO LOTS DO NOT QUALIFY). MATTED PHOTOS AND PERSONALIZED PHOTOS DO NOT
QUALIFY FOR THE OFFER.
3) FREE PHOTOS MUST BE OF EQUAL OR LESSER VALUE OF THE
PHOTOS YOU PURCHASED. PURCHASE TWO BLACK & WHITE PHOTOS AND YOU CAN RECEIVE
ONE BLACK & WHITE PHOTO. PURCHASE TWO COLORIZED PHOTOS AND YOU CAN RECEIVE
ONE COLORIZED PHOTO.  PHOTOS WON IN AN AUCTION CANNOT BE USED AS A FREE
PHOTO CHOICE.
4) AFTER MAKING PAYMENT FOR YOUR PHOTOS YOU MUST CONTACT
US WITH THE NAME AND OR EBAY ITEM NUMBER OF THE FREE PHOTO(S) YOU WANT. YOU MUST
CONTACT US THROUGH THE EBAY MESSAGE SYSTEM OR DIRECTLY THROUGH E-MAIL. DO NOT
ATTACH YOUR MESSAGE TO A PAYPAL PAYMENT, EBAY CHECKOUT, OR INVOICE REQUEST. MANY
SELLERS DON'T SEE THOSE MESSAGES.
5) DO NOT ORDER OR PURCHASE YOUR FREE PHOTO CHOICES ON
EBAY. SEND US A MESSAGE WITH YOUR FREE PHOTO CHOICES. EBAY CHARGES FEES FOR
EVERYTHING ORDERED ON EBAY SO WE DON'T WANT TO PAY FEES
TO EBAY ON PHOTOS WE ARE GIVING AWAY FOR FREE.
6) WE SHIP QUICKLY PER EBAY'S RULES SO IF YOU DO NOT
CONTACT US WITH YOUR FREE PHOTO CHOICE(S) BEFORE WE SHIP THIS OFFER WILL NOT
APPLY. WE CANNOT SHIP FREE PHOTOS IF WE HAVE TO PAY FOR THE POSTAGE.
7) THIS OFFER IS NOT RETROACTIVE TO INCLUDE ORDERS
ALREADY SHIPPED.