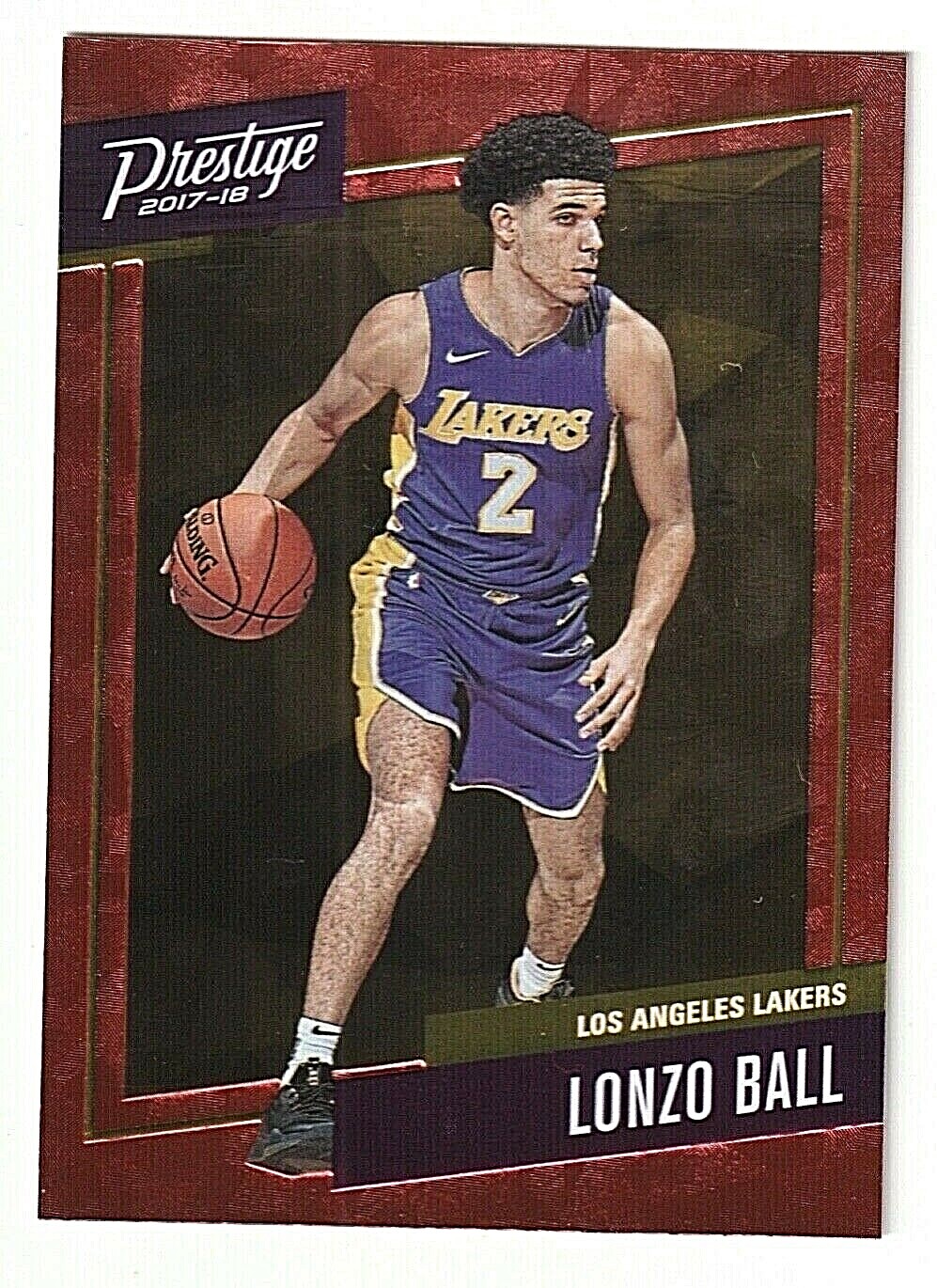 Price: 7.44 USD
Card Details:
Lonzo Ball 2017-18 Prestige Red Micro Etch NBA Rookie Card #2 Bulls Lakers RC
-SIGNS OF MAJOR SCRATCHING IS ON PROTECTIVE CASE! NOT CARD.
–ALL CARDS IN EXCELLENT/VERY GOOD CONDITION, UNLESS OTHERWISE NOTED.
-WE PROVIDE NO GUARANTEE THAT CARD WILL GRADE TO OPTIMAL NUMBER.
-PLEASE READ FINE PRINT BELOW TO FIND MORE INFO ABOUT OUR SHOP.
———————————————————————————————————————————————————-
———————————————————————————————————————————————————-
the fine print
written by FayFay's Cave
dedicated to: our customers
Descriptions: 
-Each product is inspected & provided with a genuine item description. 
-Please contact us immediately if you feel that false or skewed information has been provided.
-Remember…we are human too & sometimes we make mistakes. (OOPS!)
Feedback:
We strive for a POSITIVE experience for all parties. 
-We ask that all buyers please leave appropriate positive feedback within 30 days of purchase.
-After 30 days of no feedback provided, eBay will send an automatic reminder e-mail to the buyer.
-FayFay's Cave will ALWAYS provide positive ratings for successful transactions.
-Your feedback allows us to continue selling under a champion's umbrella.
-We WANT to keep providing genuine treasures at the best prices.
-YOUR positive feedback provides that encouragement! 
-Should we not meet your expectations as a buyer, please contact us!
**WE WILL MAKE IT RIGHT!** **THATS A PROMISE**
-Negative feedback (BOO!) is something we want to avoid & for that, we got your back!
*WE ARE LIGHTNING FAST COMMUNICATORS & ALSO TAKE PRIDE IN PROFESSIONALISM 
SO YOU CAN LOOK FORWARD TO A PLEASANT INTERACTION!
Payment & Shipping:
Accepted Forms of Payment: 
PayPal, Apple Pay, Google Pay, VISA, Mastercard, American Express, Discover
Payment Policy:
-Buyers receive up to 4 days to complete the payment process.
-After 2 days of non-payment, an automatic reminder will be sent to the buyer.
-After 4 days of non-payment, buyers item will automatically be cancelled.
-If a buyer requires longer then 4 days to process payment, please contact account for negotiation.
-Combined payments accepted with 3 days to fulfill.
Shipping Policy & Promise:
-We ship to United States & many other countries!
*Eligible items are available through Global Shipping Program.
*Please click "Shipping & Payments" tab to view all permitted locations.
-We promise to pack items safely so they arrive in promised condition.
-We are true believers in recycled packaging.
-We offer FREE SHIPPING on ALL ITEMS.
-Same day handling if item is purchased before 2PM (ET).
-Business days include Monday-Friday.
-Items marked shipped will show available tracking # on eligible items.
Returns:
-Buyers are to file for return or make contact within 30 days of purchase.
-After request is made, refund will be provided upon successful return of item.
-Negotiations may be plausible for unique transactions.
-For basic returns, buyer pays shipping.
-Please contact our account for questions regarding returns.
-Please view eBay's Return Policy guidelines for more info on return process.
-All buyers are covered by eBay's Money Back Guarantee.
-The best way to ensure return is successful…communication! 
**We are here for you!**
Absence:
-Buyers will be notified upon absence/vacation of this account.
-Will provide clear & precise strategies/timelines for inquiries & order fulfillment.
Communication:
-Buyers may receive e-mail after successful transaction or auction.
-Buyers may receive confirmation e-mail after final payments processed.
-Details on transaction/order may be located through confirmation e-mails.
-Again…we are GRAND communicators! The best of the best!
-Please reach out to FayFay's Cave with any questions or concerns.
FayFay's Cave appreciates YOU!
Thanks for taking a peak at our treasure chest!