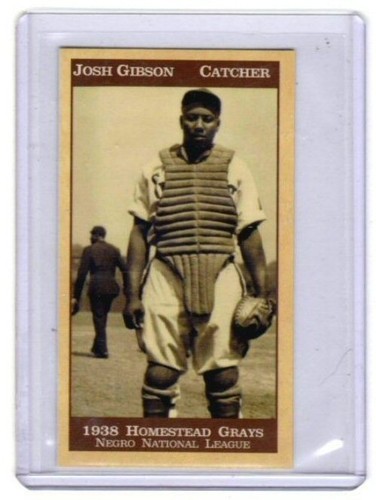 Price: 10.95 USD
Card Details:
JOSH GIBSON, '38 HOMESTEAD GRAYS NEGRO LEAGUE BLACK BABE RUTH NM+ CONDITION




About this card
:
It is an original, not a reprint or copy of any existing card.
Created on a printing press, not a homemade digital or inkjet product.
500 of this card issued in 1989, no "parallels" or variations were made.
Designed and manufactured by disabled Vietnam veteran Dave Stewart of San Francisco, California.
Scroll down for more details about Mr. Stewart.

Shipped quickly and securely, inside a brand new soft sleeve and rigid toploader.
ABOUT DAVE STEWART AND HIS CARDS:
This
is not the Dave Stewart who used to pitch for the Oakland Athletics.
This Dave Stewart was a disabled Vietnam Veteran who created a modest
number of unusual cards in San Francisco during the 1980s and early
1990s.  All of his creations feature an American Flag and a POW/MIA Flag
with the legend "Support Disabled American Veterans".  They are 2 x
3-1/2 inches in size.
Dave
lived in San Francisco, in the Richmond
neighborhood off Balboa from the early 1970s until sometime in the 90s,
and spent a lot of time at the VA Hospital on Clement Street. Before
motorized wheelchairs were widely available, he built his own using
marine batteries, and was often seen chugging down the streets in the
area. In those days, the device was a novelty, and attracted some
attention. The cards he created were usually black & white or sepia.
The
subjects of his cards were often obscure or unusual.  He found his
images in books at the San Francisco Public Library.
Stewart gave away his baseball cards in
exchange for any donation,
and presumably used the money to help pay his living expenses. He also
gave away the little toothpick flags with the black POW-MIA flag. He was
a professional panhandler, back when it was a profession – before all
the amateurs got into panhandling with their signs. He actually gave you
something of value, dubious as that value may have been at the time.
His
printing costs were often financed by friends and those who enjoyed his
cards – reportedly including western novelist Louis L'Amour, who once
paid off a printing bill for Stewart. In return, Dave made a card of the
author – the only Dave Stewart card with no professional sports
connection.

It is not known how many of each card Dave
Stewart produced, but it
is most likely 500 as this was the minimum number of cards most
commercial printers would produce in those pre-digital days.  Prescott
Printing Company printed most but not all Dave Stewart cards. There are
35 known cards, which may or may not be a complete list. Since no new
examples have been discovered in over 20 years, 35 is probably the full
set.

Guaranteed book value:
This card will always be worth more than you paid. The
minimum "book value" is the price above. I will buy this card back from
you for what you paid any time you ask. Next week, next year, or ten
years from now. I can do this only because I know that this card is worth more than I am selling it for.

About Grouchy:
21
years selling cards online. Before that, owner of Space City Cards
Comics & Coins on Main St. in Houston. As a kid I loved baseball and
football, and collected cards starting in 1959 – that's 60 years, but
it feels like yesterday.  I have bought and sold millions of
sports cards over the years. The kids who used to frequent my card shop
named me the "Grouchy Old Man" because I had to keep them in line.  The
nickname stuck. I'm not that grouchy anymore. I have over 100,000 online transactions, with an average feedback score of 100% over the years.


COMBINED SHIPPING DISCOUNT
Shipping
is combined automatically in your cart. I cannot combine shipping after
payment is made. Pay for all items at once and save time and money.