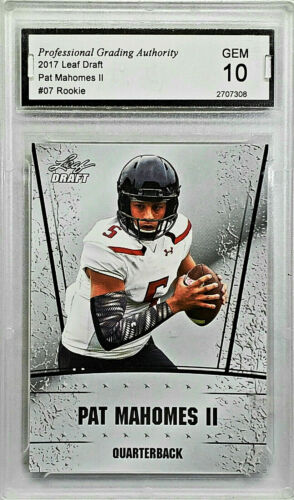 Price: 289.95 USD
Card Details:
GRADED 10 PATRICK MAHOMES ROOKIE 2017 LEAF DRAFT SPECIAL RELEASE SILVER #07 QB




RED HOT SILVER!!
🔥 GRADED 10 GEM MINT
PATRICK MAHOMES ROOKIE CARD!!
CARD DETAILS:
2017 LEAF DRAFT SPECIAL RELEASE
SILVER #07 PATRICK MAHOMES
ROOKIE NFL FOOTBALL CARD!
GRADED A PGA 10 GEM MINT!
TEAM:
KANSAS CITY CHIEFS
ABOUT:
PATRICK MAHOMES PASSED FOR 440+ YARDS AND FOR
4 TOUCH-DOWNS IN ONE OF HIS EARLY GAMES THIS
SEASON…PATRICK MAHOMES IS RED HOT…AGAIN!!
MAHOMES IS A HOUSEHOLD NAME NOW, APPEARING IN
COMMERCIALS AND BECOMING MORE POPULAR WITH
MANY COLLECTORS…AND IT SEEMS THE SUPER
BOWL IS CALLING HIS NAME EACH AND EVERY
YEAR, NOW THAT HE WON THE SUPER
BOWL MVP AWARD!!
AWESOME CARD AND TRULY AN AMAZING ADDITION
TO ANY SERIOUS CARD COLLECTION!
THIS CARD MAKES A GREAT GIFT FOR THE
COLLECTOR IN YOUR LIFE…AND MAKES
AN EVEN BETTER GIFT FOR YOU!!!
+++ FREE SHIPPING!! +++ 
+++ ALL OFFERS ARE WELCOMED!! +++
Awesome Card!! 
Original Owner!! 
Smoke-Free Home!! 

Ships Secure…
Ships Fast…
AND
Ships Free!! 
HOT!! GRADED 10 GEM MINT PAT MAHOMES II ROOKIE CARD!!
A RISING STAR THAT KEEPS RISING…WHICH IS EVIDENT AFTER HOW
HE HAS PERFORMED ALREADY TO OPEN UP THE 2019-20 SEASON,
WHEN HE LEFT A LOT OF FOOTBALL FANS WITH THEIR JAW
HANGING WIDE OPEN AFTER 440+ YARDS AND
4 TOUCH-DOWNS IN HIS LAST SINGLE GAME
PERFORMANCE…YES…THAT WAS
ALL IN ONE GAME!!
THE SKY IS THE LIMIT WITH THE CAREER OF PATRICK MAHOMES II…
WHICH MEANS THAT…
THE SKY IS THE LIMIT WITH THE PRICE OF THIS ROOKIE CARD!!
About Us, Our Specialties, etc: 
We love to collect Football Cards and everything NFL. 
We love the hobby and love Collecting Football & 
all sports cards. We are collectors just like you! 
We offer cards made by all major card companies (Topps, Bowman, Leaf,
Donruss, Panini, Score, Upper Deck, Pinnacle, Fleer, Flair, Absolute,
Contenders, National Treasure, Five Star, Crowne Royale, Exquisite,
Ultimate, Playoff, Pacific, Metal, Stadium Club, Flair, Finest,
SPX, O-Pee-Chee, OPC) & many more. 
We cover within these companies, the brand Base sets, as well
as Heritage, Archives, Update, traded, chrome, prospects,
minis, foil, rainbow foil, lots, rookie, stars, HOF, select, 
hall of famers, megabox, refractors, parallels, RC, GU, 
game used, Jersey cards, sets, Autographs, other 
player autos (Football/Pigskin), series, cases, 
boxes & packs (sometimes) & much more. 
Variations range from Base to Short-Print, SP, SSP, & all
kinds of Variations, Photo Variations, Errors, 
Gum-Stains, High-Numbers, & much more.
Many cards come from a Set Break(s).
Some of the cards are graded, ranging from Gem Mint, to
Mint, Near Mint (or NM), EX, VG, and below. The
grading is done by professional 3rd party
companies, such as PSA, BGS or BCCG
(Becketts), GMA, SGC, or PGA. 
As for Positions, we cover everyone equally: Quarterback (QB),
Running Back (RB), Wide Receivers (WR), Linebacker (LB),
Safety, Cornerback, Tight End, Defensive End, Center,
Nose Tackle, Punter, Kicker, and Special Teams.
Teams? We cover all of them. The most popular are the Patriots, Broncos, 
Giants, Chiefs, Steelers, Colts, Vikings, Raiders, Eagles, Cowboys, Lions,  
49ers, Jets, Packers, Bears, Seahawks, Cardinals, and all of the
other teams of the American Football Conference (AFC) or the 
National Football Conference (NFC), East, West, North or  
South, including the old CFL, USFL, as well as the
NCAA College teams & players, as well.
Whether they are referred to as trading cards, & whether
they are from common players or from stars that win
the MVP or ROY awards or are voted as All-Stars,
these cards that come with Relics, Memorabilia,
or are just collectibles, limited or rare, bring 
you in and make you part of the games. 
These are not toys anymore! 
We come alive during Training Camp, love the Rose Bowl & Orange
Bowl, thrive during the Pro-Bowl, and savor the Super-Bowl. 
 
But…..we collect/buy/sell all year round !! 
Enjoy this and our many other items we offer, and
always enjoy FREE SHIPPING!!