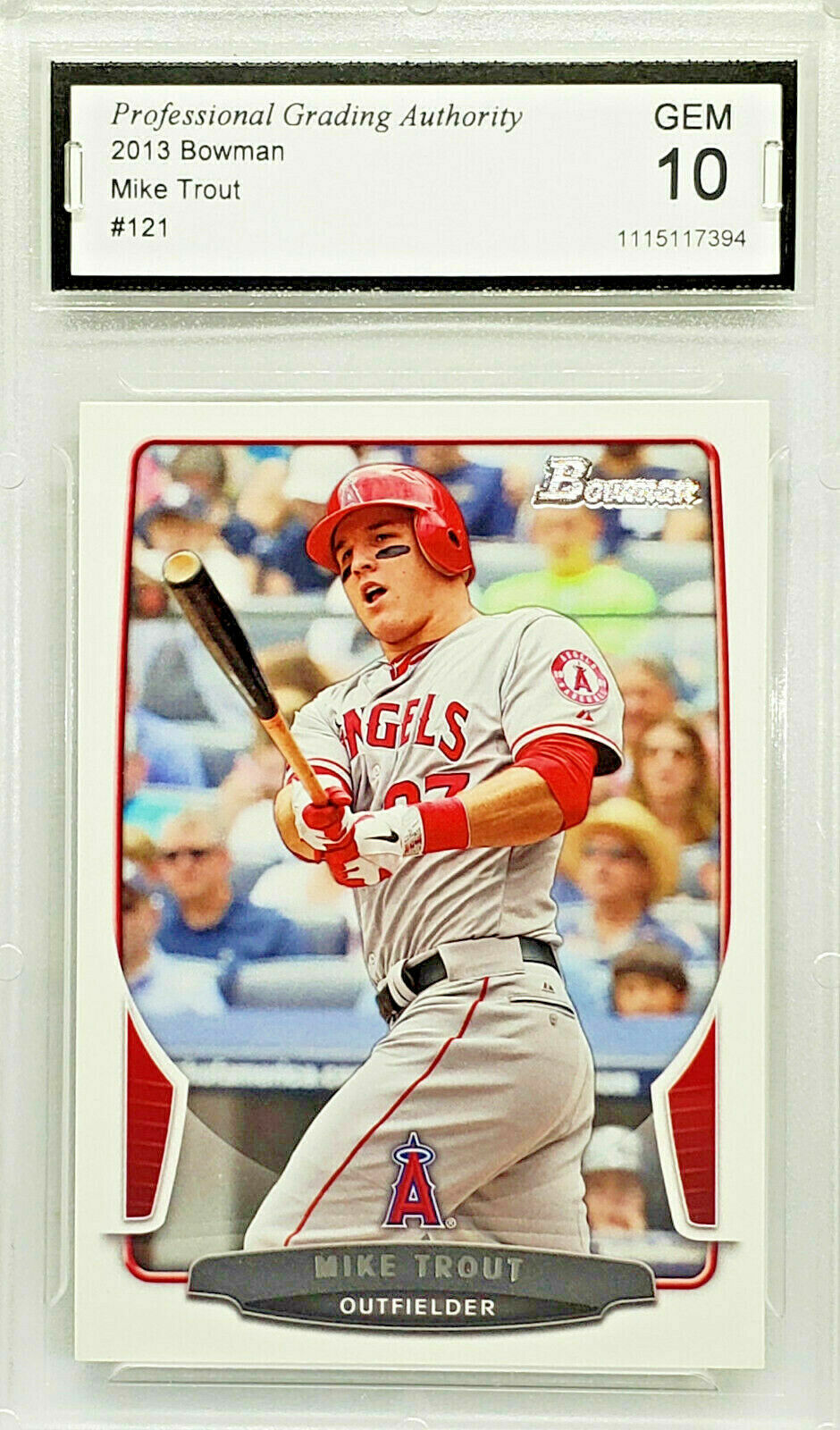 Price: 199.95 USD
Card Details:
GRADED 10! 🔥 MIKE TROUT 2013 BOWMAN #121 ANGELS, ASG, ROY, 3X MVP, GEM MINT!





HOT! 🔥 GRADED 10 GEM MINT MIKE TROUT
2013 BOWMAN BASEBALL CARD!!
CARD INFO:
2013 BOWMAN BASEBALL #121 MIKE TROUT
BASEBALL CARD! 
VERY EARLY TROUT CARD…JUST A YEAR AFTER
THE MIKE TROUT ROOKIE CARD…MAKING THIS
A VERY HIGH-DEMAND CARD!
GRADED A PGA 10 GEM MINT!!
NAME:
MIKE TROUT
TEAM:
LOS ANGELES ANGELS OF ANAHEIM
ABOUT:
MIKE TROUT IS A 3X MVP, 8X ALL-STAR, AND OFTEN
CALLED THE GREATEST PLAYER IN THE GAME.
HAS HIT 285 HOME RUNS, HAS 200 STOLEN BASES, AND
A LIFETIME BATTING AVERAGE OF .305!
A LIFETIME WAR OF 72.5 PUTS HIM AHEAD OF STARS
LIKE DEREK JETER AFTER JUST 9 SEASONS
VS. 20 SEASONS THAT JETER PLAYED!
AWESOME CARD AND TRULY AN AMAZING ADDITION
TO ANY SERIOUS CARD COLLECTION!
THIS CARD MAKES A GREAT GIFT FOR THE
COLLECTOR IN YOUR LIFE…AND MAKES
AN EVEN BETTER GIFT FOR YOU!!!
+++ FREE SHIPPING!! +++
+++ ALL OFFERS ARE WELCOMED!! +++
EVERYONE KNOWS THE NAME "MIKE TROUT"…
WHICH EXPLAINS WHY THESE SELL FAST!!

Awesome Card!! 
Original Owner!! 
Smoke-Free Home!! 

Ships Secure… 
Ships Fast… 
AND… 
SHIPS FREE…!!! 
SUPER HOT 10 GEM MINT BASEBALL CARD OF THE $400+ MILLION DOLLAR MAN…
MIKE TROUT, ROY & 3X MVP SUPERSTAR!!
OWN THIS HOT MIKE TROUT CARD TODAY!!
About Us, Our Specialties, etc: 
We love to collect Baseball Cards and everything MLB. 
We love the hobby and love Collecting baseball & 
all sports cards. We are collectors just like you! 
We offer cards made by all major card companies (Topps, Bowman,
Donruss, Panini, Score, Upper Deck, Pinnacle, Fleer, Flair, SPX,
Stadium Club, Flair, Finest, O-Pee-Chee, OPC & many more). 
We cover within these companies, the brand Base sets, as well
as Update, Archives, Update, traded, chrome, prospects,
minis, foil, rainbow foil, lots, rookie, stars, HOF, select, 
hall of famers, megabox, refractors, parallels, RC, GU, 
game used, Jersey cards, sets, Autographs, other 
player autos (bats and balls), series, cases, 
boxes & packs (sometimes) & much more. 
Variations range from Base to Short-Print, SP, SSP, & all
kinds of Variations, Photo Variations, Errors, 
Gum-Stains, High-Numbers, & much more.
Many cards come from a Set Break(s).
Some of the cards are graded, ranging from Gem Mint, to
Mint, Near Mint (or NM), EX, VG, and below. The
grading is done by professional 3rd party
companies, such as PSA, BGS or BCCG
(Becketts), GMA, SGC, or PGA. 
As for Positions, we cover everyone equally: Pitchers, catchers,
outfielders, 1st Base, 2nd Base, 3rd Base, Shortstop, and
if you cannot find them, search by first base,
second base, third base, etc. 
Teams? We cover all of them. The most popular are the Yankees,
Mets, Dodgers, Marlins, Cubs, Reds, Red Sox, Royals, Braves,
White Sox, Twins, Brewers, Cardinals, Tigers & so forth, from
both the National League and the American League. 
Whether they are referred to as trading cards, & whether
they are from common players or from stars that win
the MVP or ROY awards or are voted as All-Stars,
these cards that come with Relics, Memorabilia,
or are just collectibles, limited or rare, bring 
you in and make you part of the games,
either in the Major Leagues or Minors. 
These are not toys anymore! 
We come alive during Spring Training, thrive during the
All-Star Game, and savor the Playoffs & World Series. 
 
But…..we collect/buy/sell all year round !! 
Enjoy this and our many other items we offer, and 
always enjoy FREE SHIPPING !!