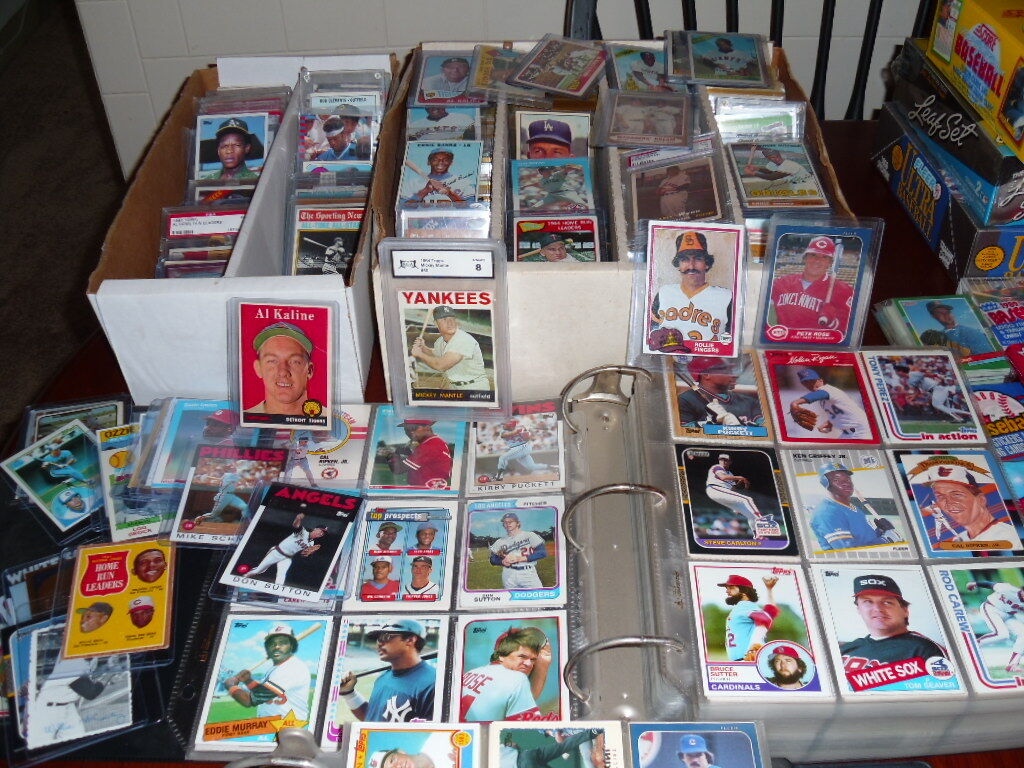 Price: 39.00 USD
Card Details:
GIGANTIC ESTATE FIND OF VINTAGE SPORTSCARDS WITH OLD UNOPENED PACKS LIQUIDATION
HERE IS WHAT YOU WILL RECEIVE AT THE VERY LOW COST OF $39.00 PER LOT!! (Please note that last months 300 lots went real fast) These lots are guaranteed to be even better than all the thousands that have been sold before! A new shipment from another estate has arrived, and it's a GOODIE!!! Over $35 in FREE bonus cards per lot! 
Newly added FREE extra bonus value this month with an EXTRA 1960s card (you'll get TWO FREE 60s cards now per lot instead of previously one) and also this month you'll receive one 1987 rack packs per lot instead of two wax packs in the the previous lots!! ( A 1987 Topps rack pack is equal to THREE wax packs, stars on top of many of them) A HUGE BONUS!!!! 1987 Topps was the best year for rookies in the 80s! Keeps getting better and better! 
*You will now receive at least 230 cards (up from the previous 220) in vintage unopened baseball card packs that date back 28-34 years ago! No new junk packs here! As you scroll down and do the math, you'll learn how these packs will basically be FREE of charge because you'll receive at least $35 worth of cards before you even open up one single pack! 
*You will also receive an additional randomly picked 30 cards from over 100,000 cards that have been kept in 3200 count boxes that come from sets I broke. These cards will consist of the four major sports (baseball, football, basketball and hockey) mostly baseball however! You will receive a nice blend of stars, semi stars, rookies, inserts, parallels, older commons, current stars of today, and Hall of Famers in good condition!! 
All cards are in good condition, and you are also GUARANTEED at least TWO Topps cards from the 60s per lot.  All in all, any Topps cards from the 60s are a gem as they were never overproduced like todays cards!! 
Plus One FREE Mickey Mantle insert card with EVERY lot, one FREE Ken Griffey Jr Card, and one FREE Nolan Ryan card!!! 

Book value of AT THE VERY LEAST $25 depending on the draw, usually more!!
*Add yet another bonus, you will NOW receive ONE FREE team set in a nicely displayed team set bag from over 20 years ago of a major league baseball team, a football team from the NFL, or an NBA basketball team! Book value ranging from $3-$6 depending on the team randomly picked!
A Mickey Mantle insert cards that books anywhere from $2-$10
NFL HALL OF FAMER CARDS 
Adding ALL the bonuses up comes to over $35.00 worth of vintage cards and supplies alone, which gives you the 250 vintage cards in unopened packs FREE of charge! A deal you won't be able to beat here on ebay! These lots will go fast each month! Don't lose out!
Please note that even though USPS shipping fees have gone up dramatically (another $1.50) in the past few months, you still get FREE SHIPPING! 

Recapping this offer: 
*You will receive at the very least 230 cards in unopened baseball card packs that are between 25-33 years ago. 
*An additional 30 card bonus filled with rookies, stars, older commons, Hall of Famers, and inserts from the past, and even todays greatest stars from all four major sports!!! 
*One free Mickey Mantle insert card
*One FREE Ken Griffey Jr. Card
*One FREE Nolan Ryan card
*Guaranteed NOW at least TWO Topps cards from the 60s! 
*One FREE major league baseball team set from over 20 years ago
(*Please feel free to tell me your favorite team, or teams by sending me a "message to seller", and I'll do my best to accommodate you!*)
These lots will always vary from 350-360 cards per lot (As compared to the previous 320) NEVER LESS! I usually throw in an extra pack or two, or even more, as a gesture of my thanx to you for your purchase!!!!
This is a fantastic opportunity for fun and investment. Opening these old packs and finding gems, then having the additional 20 cards to go thru, and of course the team set you'll receive, will make a day of fun for you as well as family members as well
.
Of all the great bonuses, here's just yet another fantastic one:

*SHIPPING IS ABSOLUTELY FREE (BY PRIORITY MAIL ONLY) regardless of how many lots you buy, and if you purchase 3 or more lots you'll receive ONE free graded card! Buy 5 lots, you'll receive one extra lot ENTIRE LOT of unopened packs, the 40 card bonus, the hall of famer card, one graded card, and the team sets for FREE!!! Again, FREE SHIPPING BY PRIORITY MAIL!
Please be reminded that USPS priority shipping fees have been raised $3.00 for the 3rd time in two years! So costly but FREE!!
Thanx for looking and feel free to visit my Ebay store for other great auctions of vintage sportscards!!!
*On a side note! Please keep in mind that these packages take time, patience and consideration in assembling. I will however have your package out normally the next day. I am not just going to throw together a package just to get the total number of cards right (350-360). If there would be a problem, please email me before leaving feedback. I enjoy selling these cards to you, I want you to enjoy them even more!! Thanx!