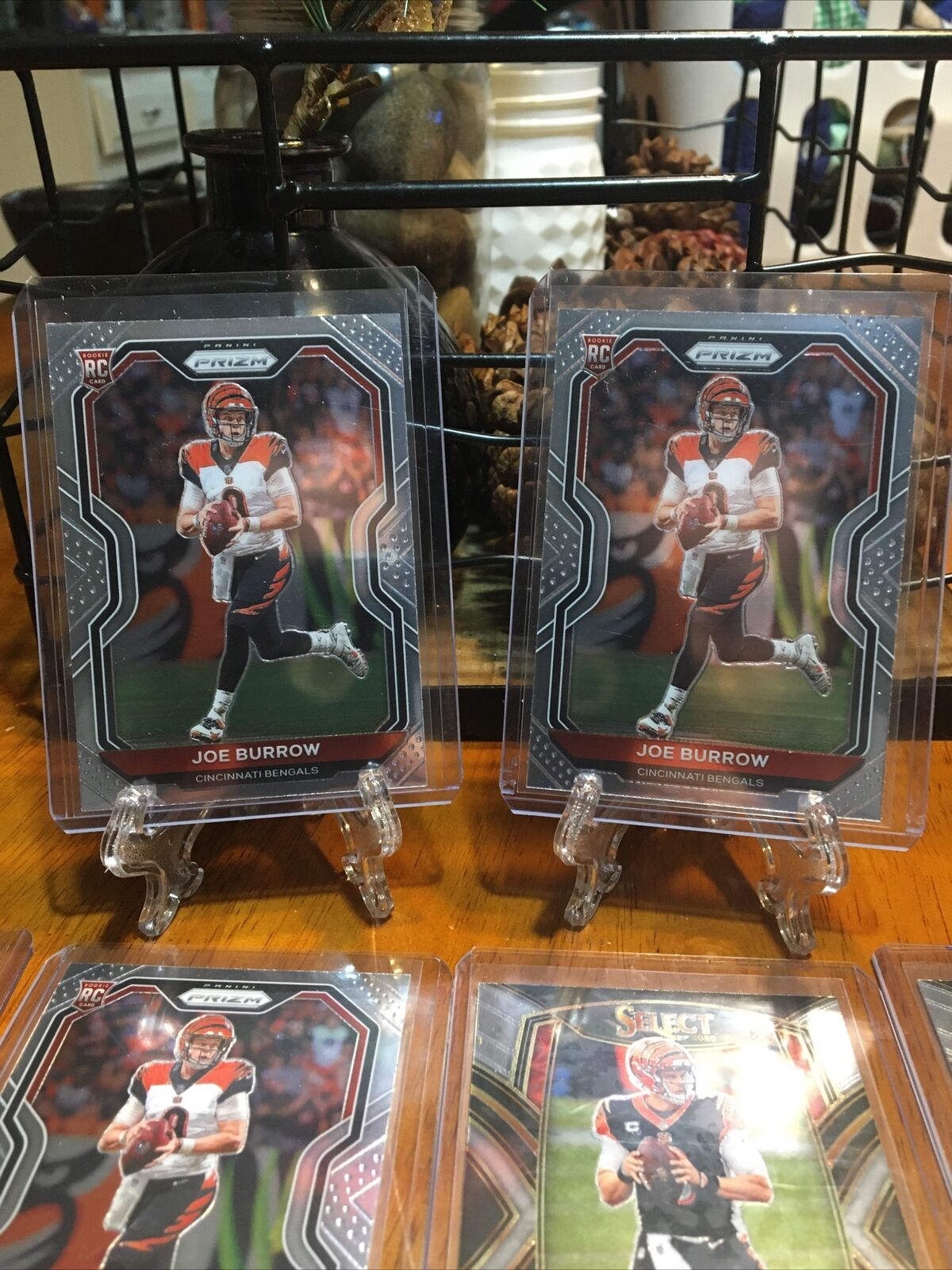 Price: 24.99 USD
Card Details:
*FOOTBALL PACK* 2020 Prizm JOE BURROW ROOKIE RC *READ*
*FOOTBALL PACK* 2020 Prizm JOE BURROW ROOKIE RC *READ*.
*THIS IS A FOOTBALL REPACK LOT OF 10-14CARDS*
*10-14 CARDS GUARANTEED* ( or more)
PLEASE READ DESCRIPTION AND SEE PICTURES TO SEE EXAMPLES OF CONTENTS OF FOOTBALL PACK LOT
THIS REPACK INCLUDES 10 or more CARDS PER (1) PURCHASE
CARDS THAT ARE INCLUDED, GUARANTEED AND ARE NOT LIMITED TO
6 Base
2 Insert / Parallel (could also be Rookies)
4-6 Rookies
Some Packs contain Bonus Basketball Cards. Mostly vintage Michael Jordan cards and Hall of Fame vets.
There will not be Junk/ Damaged cards in these packs. All cards are Nrmint-Mint ++. You will definitely get your money's worth and some of you will definitely exceed that if you hit the bigger cards in these packs.
SEE PICTURES FOR EXAMPLES. ALL FOOTBALL CARDS IN PICTURES ARE INSERTED INTO THE PACKS
100 PACKS MADE (Numbered 1-100)
Every 3rd pack contains and guarantees at least one of the following a 2017-2021 Rookie QB , Autograph, Numbered or short print and ør jersey card!! Most cards are 2020 Prizm and 2020 Donruss. The cards you see in the pictures will be inserted into the packs randomly. Every Top Rookie from the 2020 class will be inserted throughout these 100 packs.
Message if any questions
Thanks so much