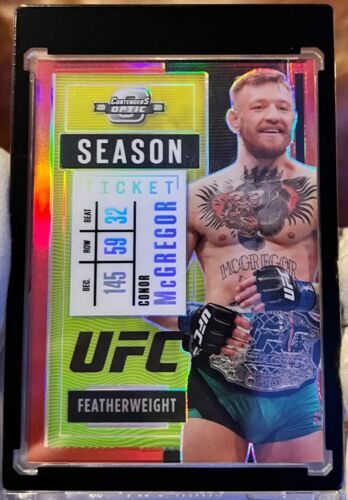 Price: 150.00 USD
Card Details:
Conor McGregor – 2021 Chronicles Contenders Optic Season Ticket Red #'d/149




Buyer is purchasing the exact item pictured in this listing!
2021 Panini Chronicles Contenders Optic UFC
Season Ticket Red Parallel Prizm
Card# 280
Conor McGregor
#'d/149 > 115/149
All items ship bubble-wrapped, insured, and require a signature upon delivery!!
**ATTENTION ALL BUYERS of TCG, GAMING, & SPORTS CARD SINGLES** Please make sure you understand that all TCG, Gaming, and Sports Cards Singles that are listed, were handled with absolute care, pulled using microfiber gloves, and immediately protected by placing the card in a penny sleeve and top loader, or directly into a one-touch. By purchasing ANY un-graded card single, the buyer understands that NO returns will be considered nor accepted for any manufacture printing defects for things such as centering, soft edges, bent edges, creased edges, print lines, creases, scratches, surface dings, surface defects, printing errors, etc. This is not a full list of potential manufacturing defects, but for buyers reference. I am a trusted seller, but I do NOT inspect every single card with a magnifying glass. If you have any questions or concerns, please request more pictures prior to making an offer, or purchasing from me. Thank you and happy hunting!**