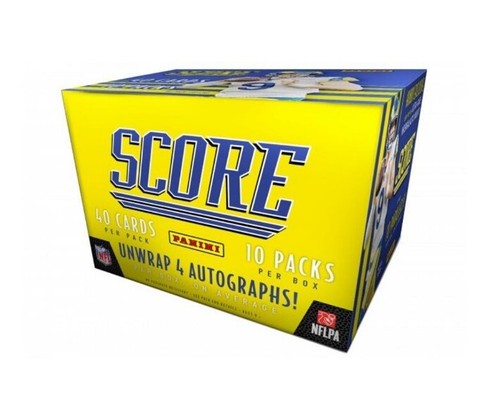 Price: 8.29 USD
Card Details:
2022 PANINI SCORE HOBBY BOX NFL FOOTBALL RANDOM TEAM BREAK




READ ITEM DESCRIPTION:
THIS WILL BREAK WITHIN 72 HOURS AFTER FILLING WE WILL MESSAGE YOU WHEN IT FILLS SO YOU KNOW WHEN ITS GOING TO BREAK!
If you have any questions please message me!
You are not buying boxes or complete lot, every box and pack listed will be opened live on camera. Buyer will receive every card from the random team they get. Bid responsibly, there is no guarantee this break will produce any cards of high value.
Today's Break Includes:
1- 2022 Panini Score 2022 Hobby Box
PRODUCT HIGHLIGHTS:
Inside The Box:
– 4 Autographs
– 90 Rookies
– 10 Parallels
– 36 Inserts 
Product Configuration:
– 40 cards per pack
– 10 packs per box
Product Details:
Hunt for all the stars the NFL has to offer in this 300-card base set. 
Look for the first officially licensed rookie cards of the 2022 NFL Draft Class
*****Go Cardless, youll still receive a card, won't be a the team you have drawn most likely.******
The Break will be broadcast live on TIKTOK and FACEBOOK
This break will also be posted on youtube if you miss the live video!
 TIKTOK– Daveandnoahscollectibles
 FACEBOOKGROUP- Daveandnoahscollectibles 
YOUTUBE-DaveandNoahs Collectibles
https://youtube.com/channel/UCe68nrOtwAoL5aE-F96yogg
Hits, SP, Autos, Relics will be sleeved and loaded into toploaders. All rookie cards will be sleeved. Base cards will ship in a team bag.
Buyer gets ALL CARDS of the random team they get.
ALL CARDS OPENED ON CAMERA WILL SHIP!
If winner is unable to view the live break, the video will be available on Youtube shortly after the live break ends.
 https://youtube.com/channel/UCe68nrOtwAoL5aE-F96yogg
OFFICIAL TERMS:
 The Buyers Names Will Be Randomized live and the teams will be alphabetical. Dice will be rolled to determine how many times the names are randomized.
The purchaser will receive all cards of the team they receive in this box break auction.
You are not purchasing a full case, full box or any individual cards.
There is no guarantee this break will produce any cards of the team they receive.
There is no promise of any high value or any specific card(s) that may or may not be pulled for the random team(s)
Winner will receive all cards, autographs, jerseys, relics,serial #'s, inserts, rookies pulled from the random team they receive.
If any multi-player cards are pulled they will be randomized using random.org.
If the player pulled is in college uniform the card will goto the team they were drafted to. Whatever team the player is on in the card that's the team the card goes to. Example I.E Tom Brady in a Patriots uniform goes to the Patriots, if in Buccaneers Uniform would goto the Bucs.
By bidding you agree to all terms stated in this listing.
Shipping and supplies will be $3.99 per team.
International orders are subject to an additional shipping charge, handled by eBay's Global Shipping Program.
RETURN POLICY: RETURNS ARE NOT ACCEPTED IF THE BUYER IS UNHAPPY WITH THE RESULTS OF THE BREAK.