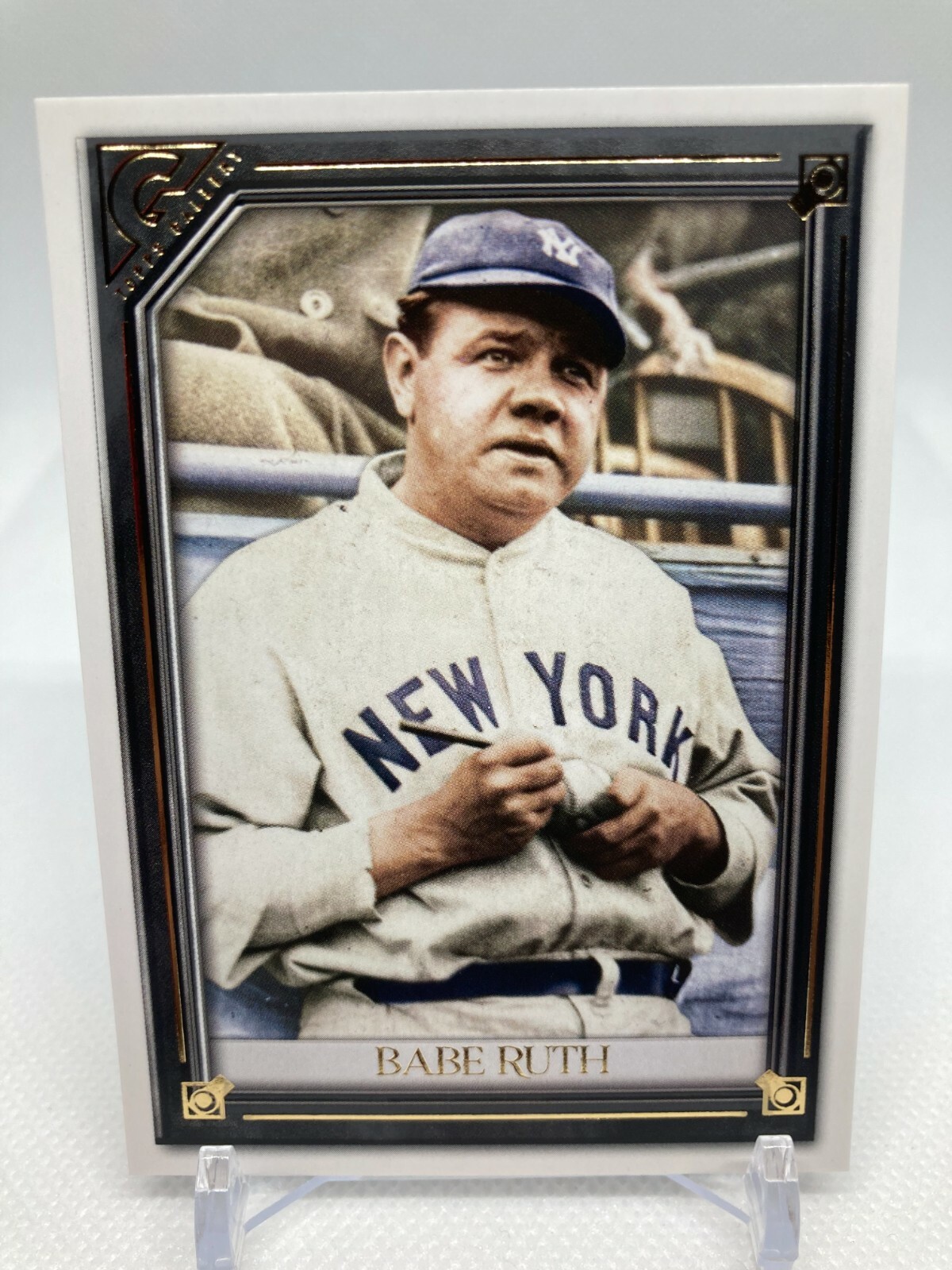 Price: 2.29 USD
Card Details:
2021 Topps Gallery Babe Ruth #141 New York Yankees Hall of Famer
HOUSTON BASEBALL CARDS
Known Defects/Issues: None

Shipping Information: Free shipping on most orders! Cards with a final sales price of $20.00 & lower will be sent by eBay standard envelope. Cards over $25 will be sent by USPS first class. Cards sent by eBay standard envelope will be sent inside of a penny sleeve and top loader with additional padding around the card. Cards over $25 will be sent by a bubble mail envelope inside of a magnetic one touch card holder. Orders are typically shipped within 1 business day of payment but please allow up to 48 hours for shipment and for eBay's system to update. If you have not received your order after 10 business days please contact us and we will order a research/review ticket with eBay customer service.

Refunds & Exchanges: The card in the images is the card you will receive. All sales are final. No refunds or exchanges. Additional "bonus cards" or "free cards" added to an order are not eligible for refunds or exchanges. Under rare circumstances when a card is severely damaged (large creases, folds, tears, rips, etc.) due to the shipping/carrier service, message us with images and provide any relevant info and we will work with you to remedy the situation. If a refund is issued at our discretion, you will not be eligible for any additional refunds in the future.

Leaving Feedback: We remember buyers who leave us positive feedback 😉 If you feel the need to leave negative feedback, please contact us first to try to remedy the situation with you. We are all aware of how much negative feedback impacts sellers ratings and potential new sales and we promise we're not trying to screw you over out of a $5 rookie card that we already pay promotional ad fees and shipping cost on.

Item Discrepancies: If you see an error/discrepancy in our item description, feel free to let us know. We'll validate the info you're providing and correct it if it's wrong. Please do not immediately approach the conversation calling us scammers or resort to name calling. You won't get a response because you will have been blocked and the conversation and your contact info will be reported to eBay.

About Us: We're a small family operated business in Cypress, TX (outside the Houston area). We recently decided to start selling on eBay given the recent sports card boom. We're avid baseball fans and only sell baseball related items. We are not professional card graders or store front owners but there is over 30 years of collection experience amongst our team. More often than not, you'll always get a little something extra with your order. We know how much more customers appreciate those kinds of things and that's the company we're striving to be. Someone you'll remember and not hesitate to order from with competitive prices, free shipping & great customer service. Check out our reviews and feedback to see what the community is saying!

Card Trading: We're always interested in making trades especially for new sealed box sets. If this is something you're interested in as well, feel free to message us!