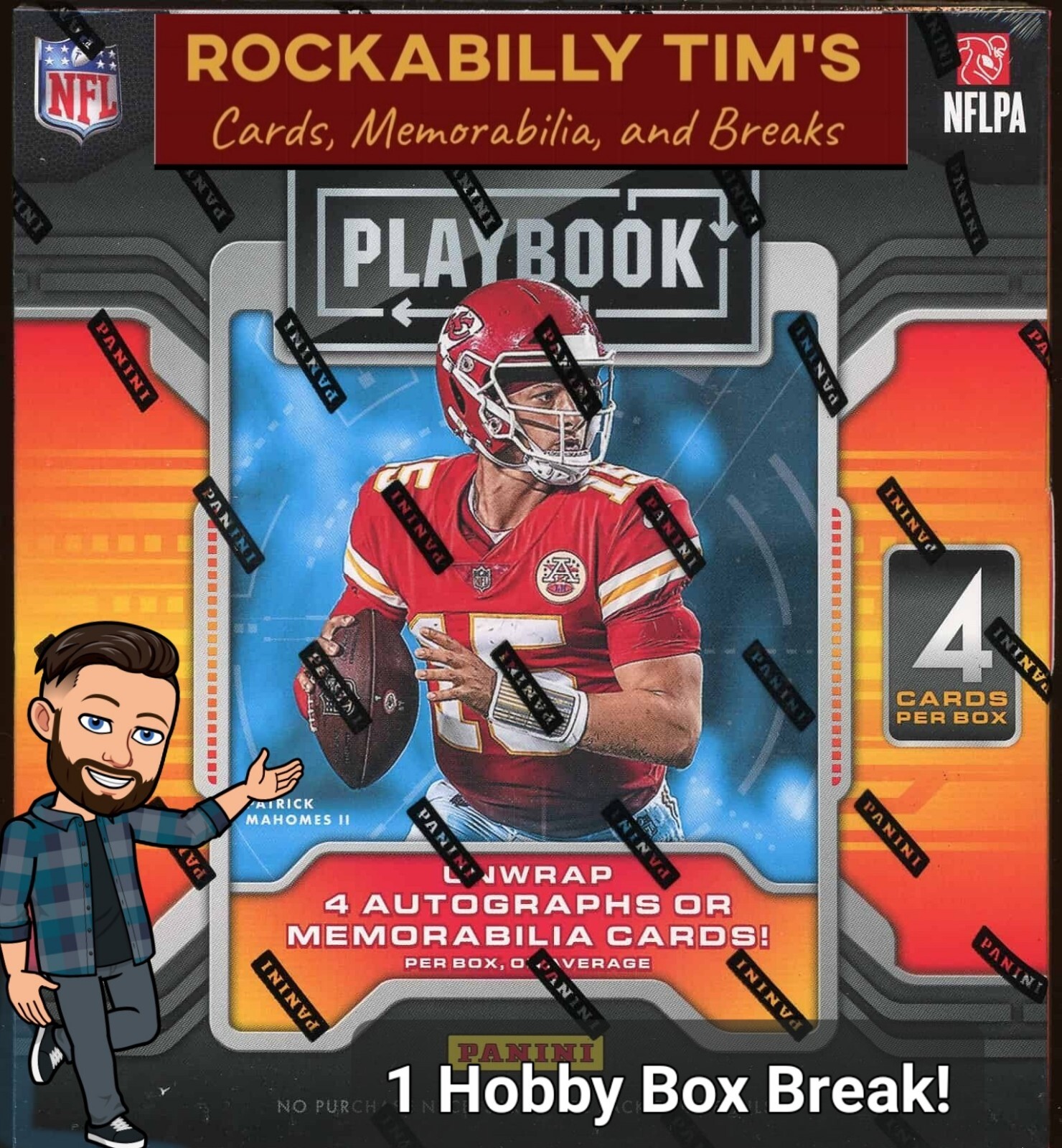 Price: 20.99 USD
Card Details:
2021 Panini Playbook Football NFL- 1 Hobby Box Random Team Break- Please Read




2021 Panini Playbook Football NFL- 1 Hobby Box Random Team Break
Break information
(Box information follows break details)
Please Read Before Bidding. Do not hesitate to ask any questions you may have! Box information to follow Break details!
Purchasing this item DOES NOT guarantee you will receive a card, pack, or box. It does guarantee you will receive one random team spot in the random team break noted in the item title. THIS IS A DIGITAL ITEM, a spot in a live break. You are not buying a card from the product listed in the title. If you have any questions about this please message me before purchasing this item.
This break does not have a set date and time. It will take place once all of the spots are sold. Once all spots for this break are sold, all buyers will be notified of the date and time of the break with a link for the live break. The break will also be loaded up on our youtube channel in case anyone misses or wants to rewatch the break.
This listing is not for a specific pack, box or case of cards or memorabilia. There is no guarantee that any item will be pulled for your team or player. Pictures in this listing may include images that represent cards or other items which may be available overall in the live break, but do not offer, promise, guarantee or otherwise imply the specific card(s) or other item(s) will be pulled in this break or any future breaks.
Each card pulled will go to the associated team in the break. The team will be the team identified on the card. If the card is collegiate, the it will go to the current or last major team played for. If the player is retired it will go to team pictured on the ite. If the item is a multi-player item with different teams the two, or more, the card will go to the owner with 51% of teams pictured. If there is not an owner associated buyers will be randomized 3 times- with the winner being in the top spot. If the team is no longer around card will go to the current associated team.
Teams will be listed in alphabetical order and the buyers will be listed by order, first ordered on top. The list then will be randomized on random.org 5 times. This will set the team/buyer for the break. 
If more than 32 spots had been sold. A spot was refunded due to error in purchase.
NO REFUNDS AFTER THE BREAK HAS STARTED/ OCCURED, NO EXCEPTIONS.
All spots must be paid for within a minimum of 4 hours prior to the break. Or spot will be re-listed.
Again, if you have any questions please contact me before bidding!
Good Luck and be sure to visit and follow us on Facebook at www.facebook.com/RTSportsandMore
Youtube channel:
https://www.youtube.com/channel/UC7xFr0UfZ7WGc1oiFvjAqnQ
2021 Panini Playbook Football Hobby Box
Configuration: 1 pack per box. 4 cards per pack.
PRODUCT HIGHLIGHTS
– 2021 Playbook Football is back with the best of the NFL from the Past, Present, and Future!
– Look for Rookies Playbook Jersey Autographs with on-card autographs and numbered to 299 or less!
– Chase the best moments in the NFL captured with unique photography in Game of Inches and Red Zone Booklets!
– Find unique Tri-Fold booklets with Nexus Jumbo Jerseys, Team Trios, and Vault Jersey Autographs, all numbered to 25 or less!
– Other autographs sets feature Goal Line Graphs, Signature Routes, and Hail Mary Signatures
BOX BREAK:
– 2 AUTOGRAPHS
– 2 MEMORABILIA
– 1 AUTOGRAPH OR MEMORABILIA BOOKLET PER BOX