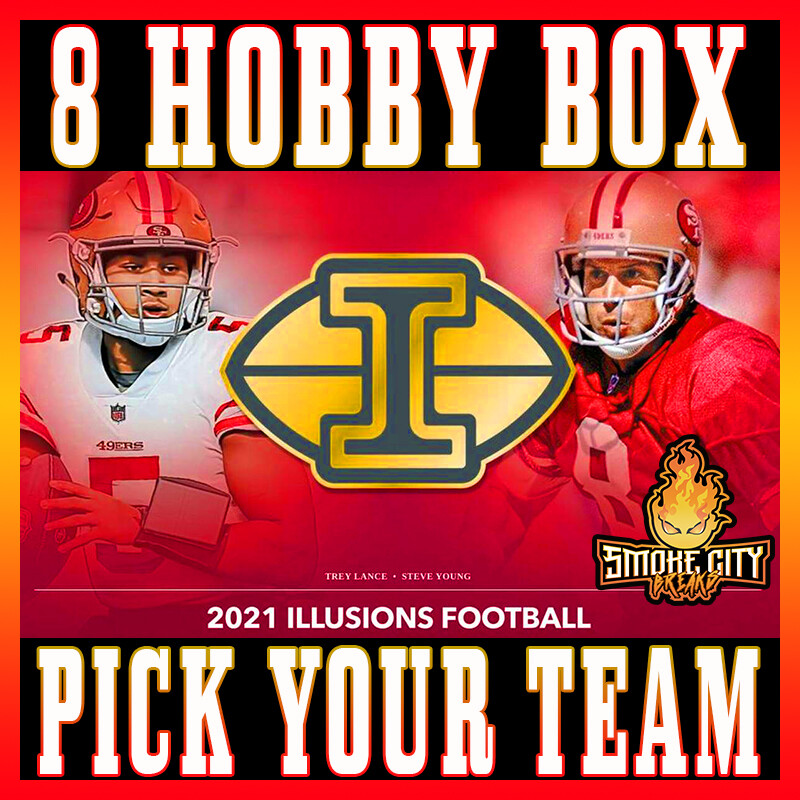 Price: 149.50 USD
Card Details:
2021 Illusions Football 8 Hobby Box Pick Your Team Group Break #FB45
You are bidding on the team in the title.
Winner will receive all cards for the listed team in the 8 box LIVE break. You are buying on a spot in a box break, and NOT a complete box of a trading card product. ALL cards from the listed team in this break will ship to the buyer of this auction.
Products:
LIVE STREAM
Break will be LIVE on YouTube, Facebook, and Website. Also available to watch on all 3 after the break. Best Cards will be posted on the Instagram page.
LINKS
Facebook:
Facebook.com/SmokeCityBreaks
YouTube:
YouTube.com/c/SmokeCityBreaks
Instagram:
SmokeCityBreaks
Website:
SmokeCityBreaks.com
DATE/TIME
Breaks when full. You will be given at least 24 hour notice before break. Messages sent through eBay messages.
For rookies without an NFL team listed on the card, the card will go to whatever team is listed in the checklist. If the card is multiplayer card, the card will be randomized to the teams represented on the card. Each player on the card will represent a spot in the random. 
EXAMPLE, we pull a LSU card with Burrow, Jefferson, and Chase. The Bengals would get 2 spots in the random and the Vikings would get one.
Shipping Information
Shipping is $3 per break, there is no additional charge if you add more teams. Just add all teams to your cart before paying. If you over pay on shipping, I will refund you the proper amount.
Smoke City Breaks will not use eBay Standard Envelopes anymore. All packages will be shipped first class, unless buyer ask and pays for something different.
EVERYONE GETS A PACKAGE!