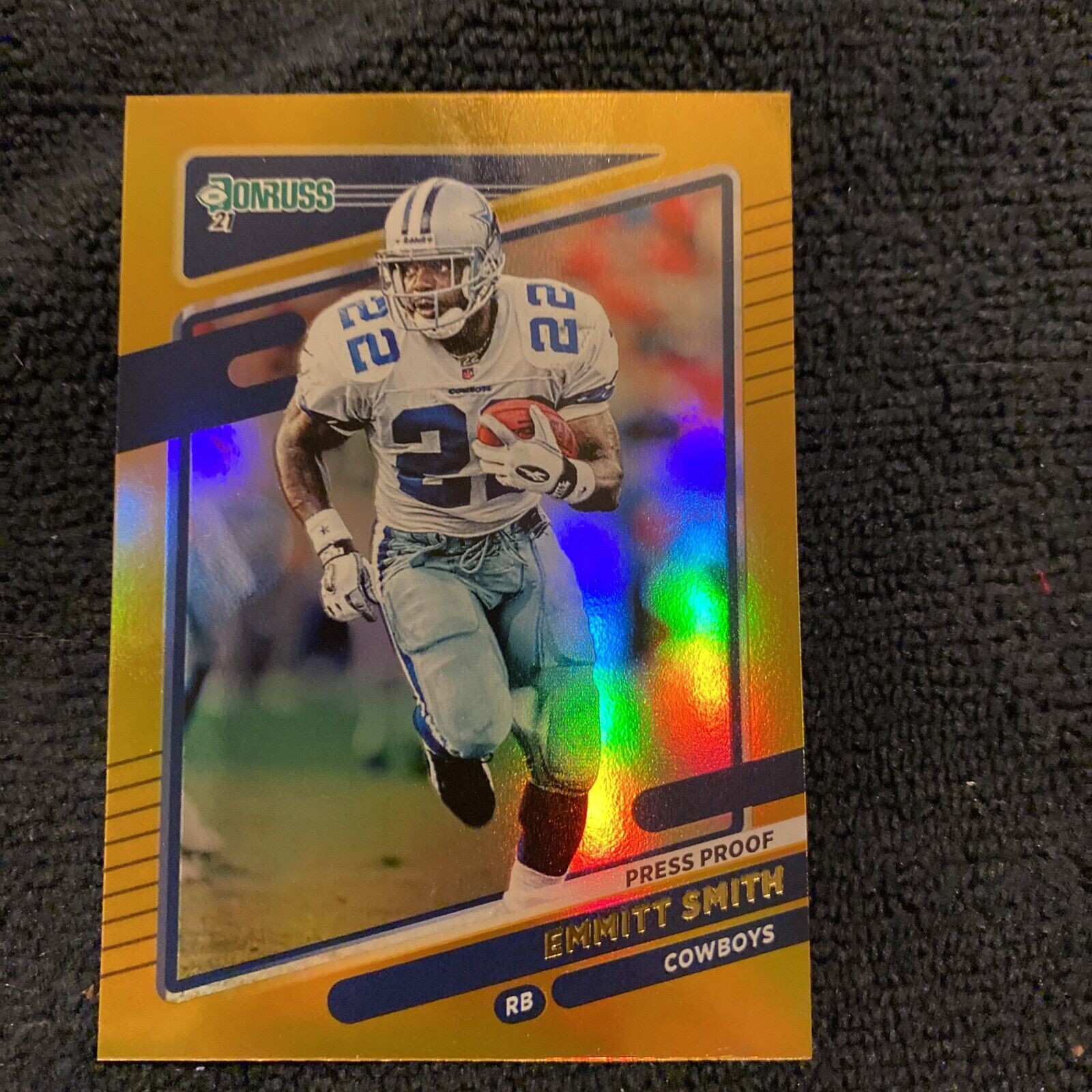 Price: 3.95 USD
Card Details:
2021 Donruss GOLD PRESS PROOF SP EMMITT SMITH #200 DALLAS COWBOYS
***PLEASE READ THE ENTIRE DESCRIPTION!!!***
Shipping options:
1. PWE – Plain White Envelope 
2. USPS First Class – Bubble mailer with tracking ($4.50 if the buyer wants this option for shipping. Any additional purchases made will also be free. If needed, request an invoice from me and I will make sure that shipping is free.)
This auction is for the card pictured above!
The card has no serious/noticeable damage or flaws. I will always state any obvious flaws that pertain to card condition. All cards listed are assumed to be near mint (8) or better. I am not a professional grader.  These are brand new cards and would be great for Psa BGS HGA SGC CGS to grade them.  Who knows maybe you a get 10 back.
I like my customers to buy with confidence, SO PLEASE LOOK AT THE PICTURES CAREFULLY BEFORE MAKING AN OFFER OR PURCHASE! If you would like additional pictures of the card and its condition, please let me know and I will send pictures of all the corners, edges, and the card outside the toploader so you can judge the condition of the card further than just from the pictures offered in the listing.
***If you have any questions about the item or shipping, PLEASE ASK!***
Terms & Conditions – FAQs
ITEM CONDITION: All ungraded sports cards are perceived to be NM-MT. Any cards with major condition issues will be noted in the items condition and at the very top of the description as well as photos to show any damage. I DO NOT GUARANTEE ANY GRADES AS I AM NOT A GRADING COMPANY. If the card is not graded do not expect it to be a PSA 10, if you grade it and it comes back a 10 consider it a bonus. Again, I DO NOT GUARANTEE YOU ANY GRADES.
RETURNS: Returns are NOT accepted.
PAYMENT: Payment is due within 4 days exactly. If item/s are not paid for at exactly 4 days an unpaid item case will automatically be opened against you. You then have an additional 3 days to pay before the case closes. If you choose not to pay an unpaid item case will be marked on your account and you will be reported to ebay. If you bid on an item and choose not to pay or make an excuse saying your kid bid on it, i will not cancel the sale and will let an unpaid item case open against you. I have 0 tolerance for non paying buyers and you will get marked for not paying for your item/s.
SHIPPING: all items will ship within 48 hours of being paid for unless my account is marked on vacation mode(will give you a return date when items will ship). Please do not message me the same day asking when items will ship. Please have patience and realize your items will ship ASAP! If your items shipping states the $1 or less PWE service and you wish to have it shipped with a faster and more protective service please contact me and i will change the shipping options to USPS or PRIORITY, buyer pays for shipping.
PWE SHIPPING: eBays new plain white envelope shipping service is what you pay for all sports cards priced at $20 and under. PWE service can take up to 3 weeks for your item arrive but will most likely arrive within a week. If your PWE package does not arrive within a week, please have some patience as these often take a little longer. If items do not arrive after 3 weeks please contact me and we?ll get it taken care of. If the item says delivered but did not show up the same day, do not worry as it will show up the following day(odd but that?s how this service works with the regional scanners).
COMBINE SHIPPING: I can combine shipping for most orders for little to no extra cost. Single cards there is very little or no extra cost as long as the package weight does not change. Sets/baseballs/memorabilia i can combine shipping on but there will me a small up-charge due to the weight of the package.
FEEDBACK: As soon as my account receives a positive feedback from you, you will also receive one back very shortly.
AUTOGRAPH AUTHENTICATION: All high priced signed items will come with a COA from one of the top reputable authentication companies which include PSA , JSA, or Beckett (BAS). Lower priced items usually do not have authentication but i will guarantee them to pass any third party authentication company or you may return it.
Any other questions please feel free to message me and I will get back to you as soon as possible. Thank you for your business and I appreciate each and everyone of my buyers!