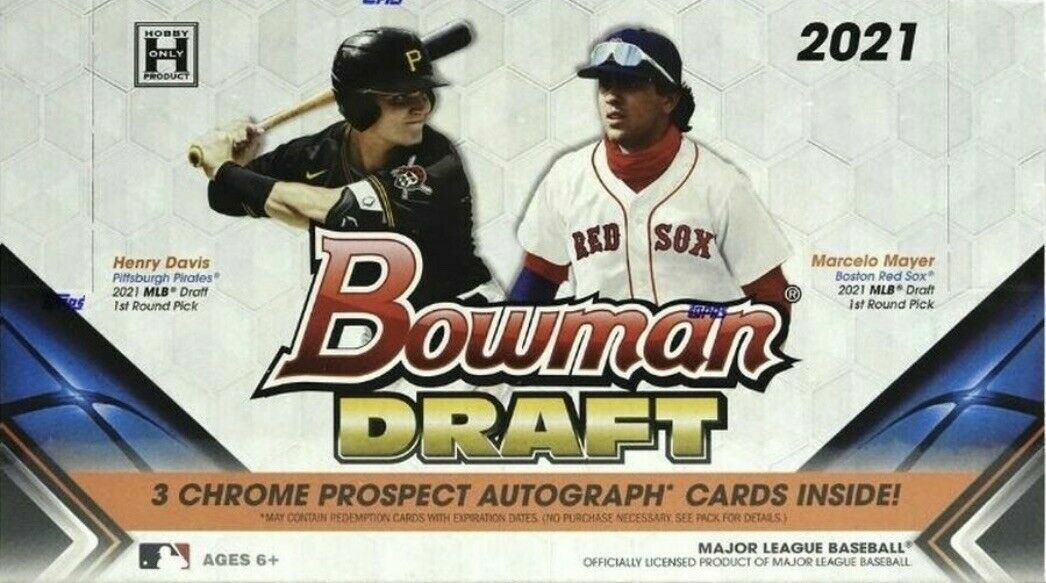 Price: 26.99 USD
Card Details:
2021 Bowman Draft 1 Jumbo Hobby Box Baseball RANDOM BREAK READ DESCRIPTION #1
YOU ARE NOT purchasing a box or pack of cards from this auction
YOU ARE purchasing 1 single team in a BOX BREAK.  You will be randomly assigned 1 single team at the break and receive ALL cards pulled for that team.
IF YOU DO NOT KNOW WHAT A BOX BREAK IS WATCH THIS VIDEO AS AN EXAMPLE –  https://www.youtube.com/watch?v=HHmQ25AptX8&t=23s – YouTube
This is a live 1 JUMBO HOBBY 2021 Bowman Draft Box Break (1 team per spot). You will be assigned 1 random team per spot and all cards for the team you are assigned will be shipped to you.  
ALL PURCHASES ARE GURANTEED 1 TEAM AND GURANTEED CARDS.
 Please reach out with any questions.
Teams will be selected randomly using random.org.  We will list the buyers and random them 7 times. Those names will then be set to a team listed in alphabetical order.  For example Team 1 will be set to the Arizona Diamondbacks, Team 2 the Atlanta Braves and so on.
The live break will take place, after the majority of the spots are sold, on "Carolina Rippers" YouTube Channel (Be sure to subscribe!)  (https://www.youtube.com/channel/UCA0TlQaC9jHTQmdzlKTelGw).  All winners will be notified of day and time via Ebay message.  There will be plenty of time between the ending of the listing and the break. You need to pay within 30 minutes of the start of the break – auctions not paid within that time may be cancelled.  ALL SALES FINAL AFTER BREAK IS BEGUN.
WE DO MOST OF OUR BREAKS ON SAT AND SUN REGARDLESS OF WHEN THEY SELL OUT
All cards will ship (including base). The cards will be awarded based on the following: Rookies that were drafted/signed will go to that team.  Veterans will go to the team the card states on the front – regardless of current team or jersey worn in the photo.  If a card has multiple players, then there will be a dice roll on Random.org to decide to which team the card goes.
All top rookies, inserts, hits, etc will be sleeved and in many cases top loaded if the card is considered a hit (base cards will not be sleeved individually). Cards will be team sleeved, wrapped, and placed in a bubble mailer or small box depending on quantity.
Shipping
Shipping for this auction is FREE!  
Thanks
I look forward to the break and hope everyone has a great time! Please reach out at any time with questions!  Carolinarippers.com