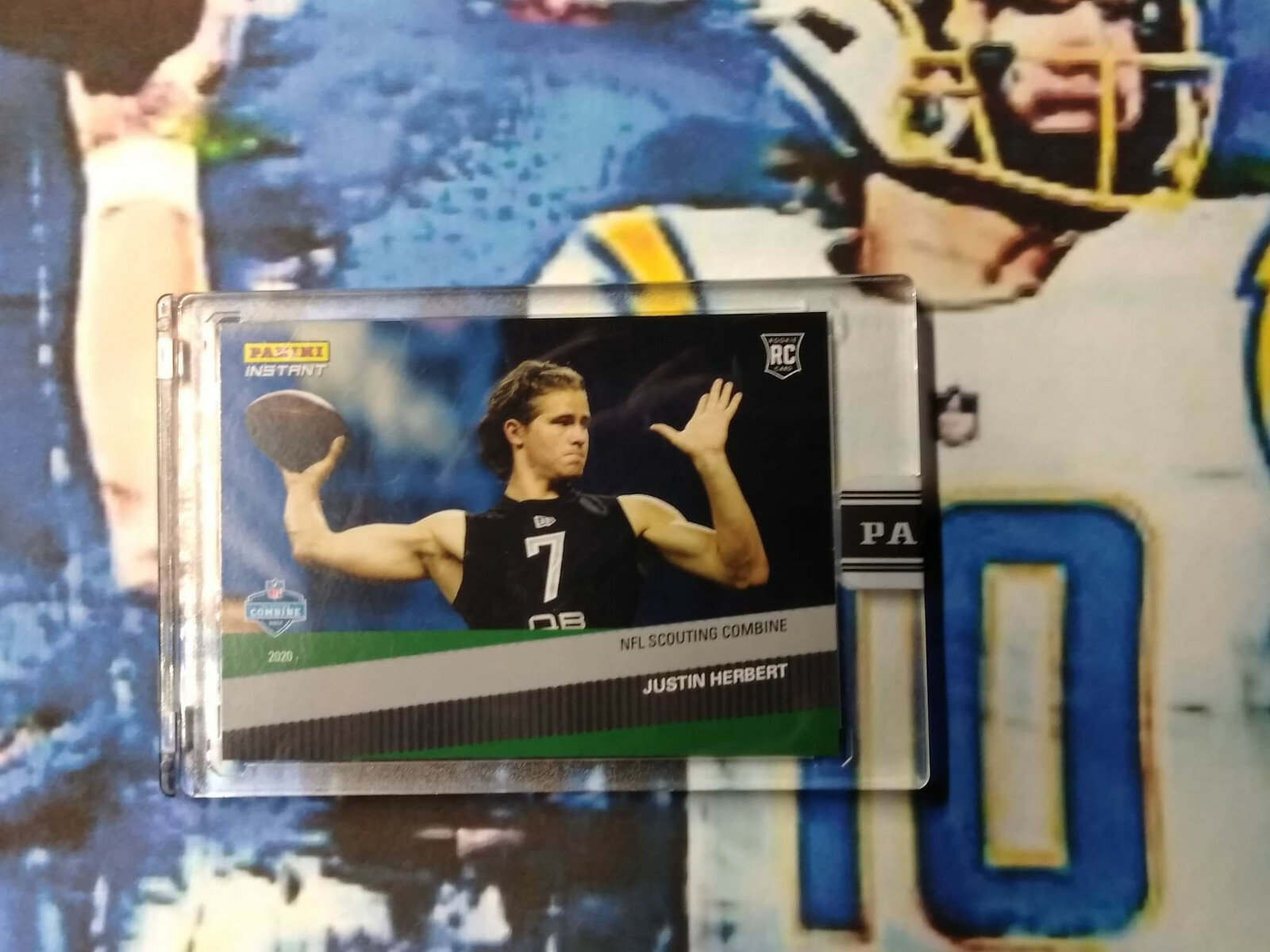 Price: 700,000.00 USD
Card Details:
2020 Panini Justin Herbert 1st NFL Combine Card 🔥 New /5 Exist I Own 3 of the 5
This Card Can Be Put On A Premiere Goldin Probenstein Leland Etc Auction W/O Grading!!! 

Card Is Pristine Perfect And Sealed At The Factory Therefore New!!!Does Not Need To Be Graded To Be Placed On Premier Auction As It Is More Valuable Sealed.

(Per Goldin Pwcc Correspondence Pic Below Of 1 Such email)Cards Like These Set Records!!! I Have 3 Of The 5 As In 3 Of The 5 Cards. (PICTURE ABOVE)

Only Selling 1 That Means It Is a 3/3 Buuut…
The Owners Of The Other 2 Will Not Sell Making This A 1/1!!! (Long Term Investors) Of The 5 That Exist This Is The Only One For Sale… It Is A Ebay/Internet 1/1 As In Only One For Sale 1/1.His First Printed Nfl Image At The Combine As Well As His First Panini Card Image Made!!! This Is One Of The Most Valuable Cards On The Planet!!!

🚀🤑🦆🐐Imagine If You Had One Of Tom Bradys First Combine Cards Sealed GM Condition!!! Millions Easy!!!
This Is A Major Investment Which Can Be Turned Into A Much Greater Profit In A Short Time!!!
The World Is Watching This Card Right Now!!!
Justin Herbert Is Not Only A Franchise QB He Is Generational QB!!!
A Generational QB Is Montana Marino Kelly Elway Brady!!!
This Is Rarer Than Cards That Go For Millions!!!A Herbert /99 Auto Goes For 240k Now Comp.

Autos Can Be Put On A Card For 125 Dollars… Cards Themselves Are Worth More Than Any Auto Being The Card Is The Fine Art.

(Autos From Herbert Are Very Easy To Get! Dime A Dozen)The Auto Is A Addition Of Value Which Is A Fraction Of The Cards Worth.
(Herbert Signed More Autos Than Any Player In History His Rookie Year)
This Card Is By Far Rarer And New Sealed In Factory!
Signed Base Rookie Raw Herbert Averages 500-1k… Imagine This Card Put On A Premier Auction!!!

This Is A Giant Investing Opportunity For The Right Collector!Tom Brady Cards Go For Millions In Non GM Condition Used Graded 8-9's!!!Imagine This Card In Just 3 Years As The Chargers Become A Super Team Dynasty With Eckler Herbert Allen Mike Williams Etc…!
Drew Brees Chris Sims Kurt Warner NFL Etc Have Said This Kid Is The Future And One Of The Most Physically Talented Qb's Ever!!!
Not Only A Franchise Qb's But A Generational QB!!!This Card Is  A Must For Any Herbert 🦆 Lovers 🦆!!!Go 🦆 Herbert 🦆 Go Duuucks/Chargers!!!Los Angeles Chargers quarterback Justin Herbert broke almost every conceivable NFL rookie passing record during the 2020 season including: most passing touchdowns (31) and most completions (396). Justin Herbert Finishes Historic Rookie Season on a Four-Game Win Streak.
Justin Herbert broke almost every rookie quarterback record imaginable. In 15 games the rookie quarterback completed 67 percent of his passes, threw for 4336 yards, 31 touchdowns, and only ten interceptions.Justin Herbert through his first 20 games: 5,912 passing yards (second most by any QB in NFL history) and 50 total TD.

He now has 7 games with at least 3 TD and 0 INT, the most by any QB through his first two seasons in NFL history.

Herbert had two stretches of 11 or more consecutive completions in the game and his career-best 84.2 completion percentage was the second-highest by a player age 23 or younger with at least 30 passing attempts in a single game in NFL history (Dak Prescott, 88.9 pct.).

He became the only NFL player to eclipse 600 completions within the first 25 starts of a career, doing so in his 23rd start.

The reigning Offensive Rookie of the Year added an eight-yard touchdown run, giving him six career performances with a rushing score

and multiple passing touchdowns to tie Kyler Murray and Cam Newton for the most within a player's first two seasons in league annals. 

Herbert is the first Chargers offensive player recognized with the weekly accolade since 2018 and is the sixth different Bolts quarterback to win the award. 

(We All Hate Waiting So That's Why I Ship ASAP!!!) Insured And Required Signature!I

I Run A Honest Business Have A Vast History In Collecting And Beauty As I Love The Tandem!
Thank You For The Support Views And The Many Offers!!!