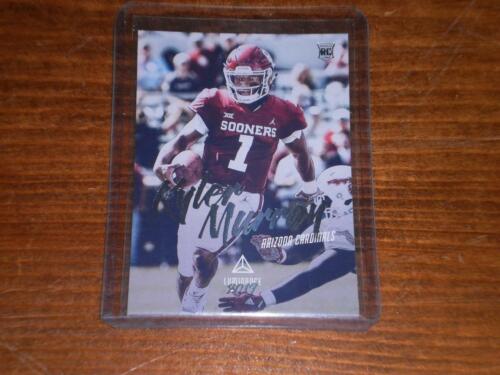 Price: 12.00 USD
Card Details:
2019 Panini Luminance #131 Kyler Murray Rookie Football Card Cardinals





This is a 2019 Panini Luminance #131 Kyler Murray Rookie Football Card Cardinals


Click images to enlarge
Please view all pictures and supersize them
so you can judge the condition for yourself
Notice!!!!
Some Ebay apps on Phones do not show the Description on the same page as the pictures
you will have to click on the description to read the rest of it.
Just trying to eliminate some confusion…..Thanks!!!
I am not a professional grader so the grades are my opinion but I have been in the buisness and collecting  for over 35 years….if you have an issue with the grades let me know and we can work something out…I will try to be as accurate and as honest as possible!!!
Please email me with any questions before bidding!!!   I will answer any questions every day.
Please Read the grading system I use
listed at the bottom of the page….
Please read this carefully before bidding or purchasing
                        I accept Paypal. Payment must be received within 7 days of the end of the auction. 
                                      Here is the Grading system I use!!
GEM-MT : Gem Mint
A  Gem Mint  card is a virtually perfect card. Attributes include four perfectly sharp corners, sharp focus and full original gloss. 
A  Gem Mint  card must be free of staining of any kind,but an allowance may be made for a slight printing imperfection, if it doesn't impair the overall appeal of the card. 
MINT : Mint
A Mint is a superb condition card that exhibits only one of the following minor flaws: a very slight wax stain on reverse, a minor printing imperfection or slightly off-white borders. 
NM-MT : Near Mint-Mint
A  NM-MT  is a super high-end card that appears Mint  at first glance, but upon closer inspection, the card can exhibit the following: a very slight wax stain on reverse, slightest fraying at one or two corners, a minor printing imperfection, and/or slightly off-white borders. 
NM : Near Mint
A  NM  is a card with just a slight surface wear visible upon close inspection.
There may be slight fraying on some corners. Picture focus may be slightly out-of-register. A minor printing blemish is acceptable.
Slight wax staining is acceptable on the back of the card only. Most of the original gloss is retained. 
EX-MT : Excellent-Mint
 An  EX-MT card may have visible surface wear or a printing defect which does not detract from its overall appeal. 
A very light scratch may be detected only upon close inspection. Corners may have slightly graduated fraying. 
Picture focus may be slightly out-of-register. Card may show some loss of original gloss, may have minor wax stain on reverse, 
may exhibit very slight notching on edges and may also show some off-whiteness on borders.                       
 EX : Excellent                                                                                                                                         
 On  EX- cards, very minor rounding of the corners is becoming evident. Surface wear or printing defects are more visible. There may be minor chipping on edges. Loss of original gloss will be more apparent. Focus of picture may be slightly out-of-register. Several light scratches may be visible upon close inspection, but do not detract from the appeal of the card. Card may show some off-whiteness of borders.                                                               
VG-EX : Very Good-Excellent  
 A  VG-EX  card's corners may be slightly rounded. Surface wear is noticeable . The card may have light scuffing or light scratches. 
 Borders may be slightly off-white. A light crease may be visible.                                        
 VG : Very Good                                                                                                                              
 A  VG  card reveals some rounding of the corners, though not extreme. Some surface wear will be apparent, along with possible light scuffing or light scratches. 
Focus may be somewhat off-register and edges may exhibit noticeable wear. Much, but not all, of the card's original gloss will be lost. Borders may be somewhat yelloowed and/or discolored. A crease may be visible. Printing defects are possible. Slight stain may show on obverse and wax staining 
on reverse may be more prominent.                                                                                                            
GOOD : Good                                                                                                                                   
 A  Good  card's corners show accelerated rounding and surface wear is starting to become obvious. 
A good card may have scratching, scuffing, light staining, or chipping of enamel on obverse. 
There may be several creases. Original gloss may be completely absent. Card may show considerable discoloration or marks. This is the highest grade that can have pen or other writing or marks on the card without noting in the auction.                                                                                             
FR : Fair                                                                                                                                                
 A  Fair  card's corners will show extreme wear, possibly affecting framing of the picture. The surface of the card will show advanced stages of wear, 
including scuffing, scratching, pitting, chipping, staining and pin or punch holes. The picture will possibly be quite out-of-register and the borders may have become brown and dirty. 
The card may have one or more heavy creases. Even though the card may be heavily worn, it cannot achieve this grade if it is missing solid pieces of the card as a result of a major tear, etc. 
This would include damage such as the removal of the back layer of the card or an entire corner.   
 PR : Poor                                                                                                                                                     
 A Poor  will exhibit many of the same qualities of a Fair card but the defects may have advanced to such a serious stage that the eye appeal of the card has nearly vanished in its entirety.
 A Poor card may be missing one or two pieces may, exhibit major creasing that nearly breaks through all the layers of cardboard or it may contain extreme discoloration or dirtiness throughout 
that may make it difficult to identify the issue or content of the card on either the front or back. A card of this nature may also show noticeable warping or another type of destructive defect.
Shipping is free on my lots with an extra charge for international shipping (excluding Canada) You must contact me first with your address if you are an international bidder Also Alaska and Hawaii so I can give you a shipping quote.
I will make every effort to make your purchase enjoyable. If however there is a problem please contact me so I will have the chance to correct any mistakes.
I have been collecting cards for over 35 years and have been buying and selling a wide variety of collectibles for over 15 years. We buy larger lots and collections and break them down into singles and smaller lots so they will be more affordable and easier for any collector.
If you have any problems please contact me at ebay I will work as hard as I can to make sure your purchase experience is a pleasant one.
Get images that
make Supersized seem small.
Showcase your items with Auctiva's
Listing Templates!


THE simple solution for eBay sellers.
Track Page Views With
Auctiva's FREE Counter