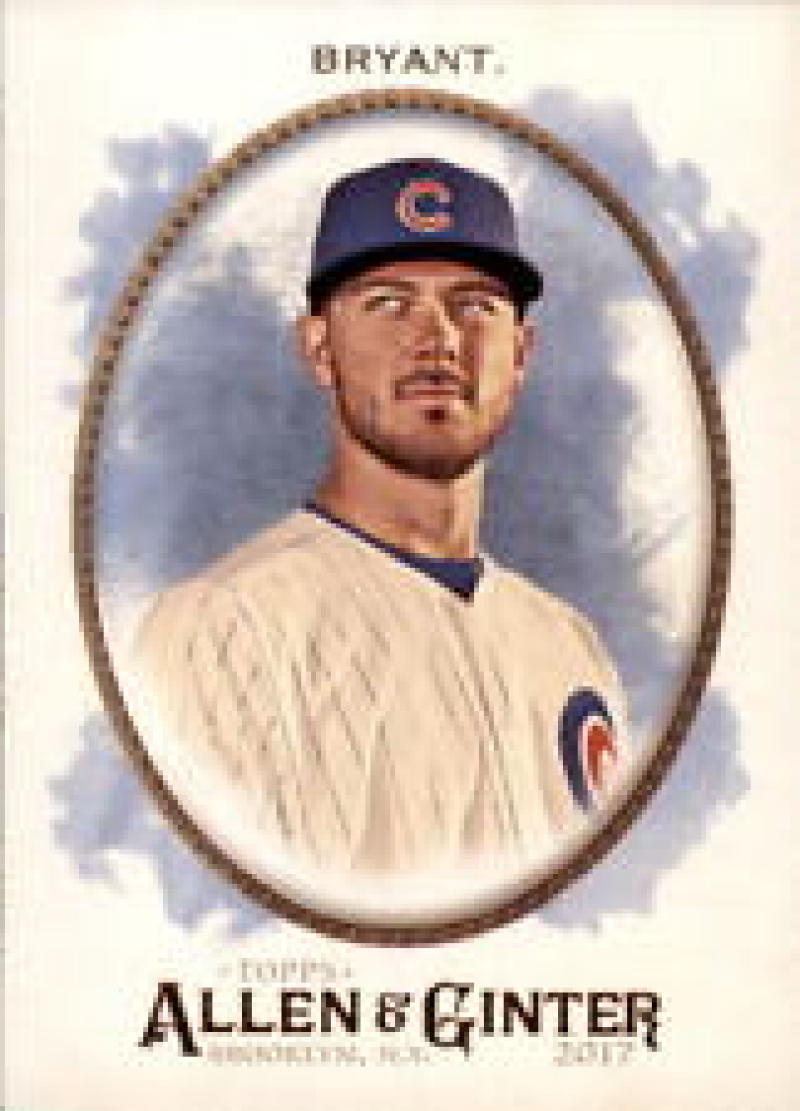 Price: 4.49 USD
Card Details:
2017 Allen and Ginter (Topps) Baseball Cards Pick From List 1-250




2017 Allen and Ginter (Topps) Baseball Cards Pick From List 1-250
Thank you for clicking on my auction.  The listing software I use sometimes imports the whole checklist instead of only the cards I have.  The only cards I have available are from the drop down menu.  Thank you for understanding.
#1 Kris Bryant Chicago Cubs
#2 Albert Pujols Los Angeles Angels
#3 Tyler Naquin Cleveland Indians
#4 Babe Ruth New York Yankees
#5 Adrian Gonzalez Los Angeles Dodgers
#6 DJ LeMahieu Colorado Rockies
#7 Derek Jeter New York Yankees
#8 Kevin Gausman Baltimore Orioles
#9 Ryan Schimpf San Diego Padres
#10 Mike Trout Los Angeles Angels
#11 Brandon Finnegan Cincinnati Reds
#12 Corey Bellemore Beer Mile Runner
#13 Jake Arrieta Chicago Cubs
#14 Robert Gsellman RC Rookie New York Mets
#15 Gary Sanchez New York Yankees
#16 Garrett Richards Los Angeles Angels
#17 Jose De Leon RC Rookie Tampa Bay Rays
#18 Marcus Semien Oakland Athletics
#19 Giancarlo Stanton Miami Marlins
#20 Brooke Hogan Media Personality
#21 Eric Hosmer Kansas City Royals
#22 Albert Almora Chicago Cubs
#23 John Smoltz Atlanta Braves
#24 Ken Griffey Jr. Seattle Mariners
#25 Alexa Datt Sports Reporter
#26 Matt Wieters Washington Nationals
#27 Yulieski Gurriel RC Rookie Houston Astros
#28 Andrew McCutchen Pittsburgh Pirates
#29 Maikel Franco Philadelphia Phillies
#30 Jorge Soler Kansas City Royals
#31 Carlos Santana Cleveland Indians
#32 Peter Rosenberg Radio DJ
#33 Byron Buxton Minnesota Twins
#34 Billy Hamilton Cincinnati Reds
#35 Johnny Damon Boston Red Sox
#36 Edwin Encarnacion Cleveland Indians
#37 Devon Travis Toronto Blue Jays
#38 Craig Kimbrel Boston Red Sox
#39 Yu Darvish Texas Rangers
#40 Dansby Swanson RC Rookie Atlanta Braves
#41 Chris Sale Boston Red Sox
#42 Mark Trumbo Baltimore Orioles
#43 Tanner Roark Washington Nationals
#44 Anthony Rizzo Chicago Cubs
#45 Harriet Tubman $20 bill
#46 Chris Archer Tampa Bay Rays
#47 Omar Vizquel Cleveland Indians
#48 Carlos Correa Houston Astros
#49 David Wright New York Mets
#50 Bryce Harper Washington Nationals
#51 Buster Posey San Francisco Giants
#52 Trees in India 50 million planted in one day
#53 Brandon Belt San Francisco Giants
#54 Rickey Henderson Oakland Athletics
#55 Andre Dawson Chicago Cubs
#56 Rick Porcello Boston Red Sox
#57 Jharel Cotton RC Rookie Oakland Athletics
#58 Efren Reyes Professional Pool Player
#59 Gary Stevens Horse Racing Jockey
#60 Nolan Ryan Texas Rangers
#61 Tommy Joseph Philadelphia Phillies
#62 Joc Pederson Los Angeles Dodgers
#63 Barry Larkin Cincinnati Reds
#64 Luis Severino New York Yankees
#65 Kyle Freeland RC Rookie Colorado Rockies
#66 Kenta Maeda Los Angeles Dodgers
#67 Allie LaForce Model & Sports Reporter
#68 J.D. Martinez Detroit Tigers
#69 Carl Yastrzemski Boston Red Sox
#70 Vashti Cunningham Track & Field Athlete
#71 Julio Teheran Atlanta Braves
#72 Dustin Pedroia Boston Red Sox
#73 Starling Marte Pittsburgh Pirates
#74 Cal Ripken Jr. Baltimore Orioles
#75 Max Scherzer Washington Nationals
#76 David Dahl RC Rookie Colorado Rockies
#77 Brian Dozier Minnesota Twins
#78 Greg Maddux Atlanta Braves
#79 Rod Carew Minnesota Twins
#80 Mookie Betts Boston Red Sox
#81 Carlos Carrasco Cleveland Indians
#82 Bobby Abreu Philadelphia Phillies
#83 Ichiro Miami Marlins
#84 Ian Desmond Colorado Rockies
#85 Dave Winfield San Diego Padres
#86 Aledmys Diaz St. Louis Cardinals
#87 Henry Owens Boston Red Sox
#88 Tyler Austin RC Rookie New York Yankees
#89 Ken Rosenthal Sportswriter
#90 Gavin Cecchini RC Rookie New York Mets
#91 Nomar Mazara Texas Rangers
#92 Hunter Dozier RC Rookie Kansas City Royals
#93 Chad Pinder RC Rookie Oakland Athletics
#94 Justin Upton Detroit Tigers
#95 Dee Gordon Miami Marlins
#96 Kendrys Morales Toronto Blue Jays
#97 Aroldis Chapman New York Yankees
#98 Stephen Piscotty St. Louis Cardinals
#99 Teoscar Hernandez RC Rookie Houston Astros
#100 Ty Cobb Detroit Tigers
#101 Jay Bruce New York Mets
#102 Honus Wagner Pittsburgh Pirates
#103 Jose Reyes New York Mets
#104 Dexter Fowler St. Louis Cardinals
#105 Brett Gardner New York Yankees
#106 Sean Manaea Oakland Athletics
#107 Pedro Martinez Boston Red Sox
#108 Ryon Healy RC Rookie Oakland Athletics
#109 Cole Hamels Texas Rangers
#110 Ted Williams Boston Red Sox
#111 Alex Gordon Kansas City Royals
#112 Jayson Werth Washington Nationals
#113 Adam Jones Baltimore Orioles
#114 Yasiel Puig Los Angeles Dodgers
#115 Carlos Rodon Chicago White Sox
#116 Aaron Sanchez Toronto Blue Jays
#117 Joe Musgrove RC Rookie Houston Astros
#118 Cameron Maybin Los Angeles Angels
#119 Garrett McNamara Big Wave Surfer
#120 Vince Velasquez Philadelphia Phillies
#121 Randal Grichuk St. Louis Cardinals
#122 Reggie Jackson Oakland Athletics
#123 George Springer Houston Astros
#124 Kyle Schwarber Chicago Cubs
#125 Paul Goldschmidt Arizona Diamondbacks
#126 Adrian Beltre Texas Rangers
#127 Ollie Schniederjans Professional Golfer
#128 Tyler Glasnow RC Rookie Pittsburgh Pirates
#129 Ozzie Smith St. Louis Cardinals
#130 Renato Nunez RC Rookie Oakland Athletics
#131 Dan Jennings Baseball Executive
#132 Corey Seager Los Angeles Dodgers
#133 Addison Russell Chicago Cubs
#134 Steven Matz New York Mets
#135 Josh Donaldson Toronto Blue Jays
#136 Bo Jackson Kansas City Royals
#137 Nolan Arenado Colorado Rockies
#138 Adam Duvall Cincinnati Reds
#139 David Price Boston Red Sox
#140 Ryan Braun Milwaukee Brewers
#141 Michael Fulmer Detroit Tigers
#142 Tom Anderson Myspace Co-Founder
#143 Paris Locks Sold for refugee aid
#144 Frank Thomas Chicago White Sox
#145 A.J. Reed Houston Astros
#146 Justin Verlander Detroit Tigers
#147 Salvador Perez Kansas City Royals
#148 Jesse Winker RC Rookie Cincinnati Reds
#149 Mike Piazza New York Mets
#150 Sandy Koufax Los Angeles Dodgers
#151 Jacoby Ellsbury New York Yankees
#152 Jackie Robinson Brooklyn Dodgers
#153 Sean Doolittle Oakland Athletics
#154 David Ortiz Boston Red Sox
#155 Joey Votto Cincinnati Reds
#156 Daniel Murphy Washington Nationals
#157 Carson Fulmer RC Rookie Chicago White Sox
#158 Xander Bogaerts Boston Red Sox
#159 Yoenis Cespedes New York Mets
#160 Michal Kapral Joggler
#161 Ernie Banks Chicago Cubs
#162 Sonny Gray Oakland Athletics
#163 Wesley Bryan Professional Golfer
#164 Gerrit Cole Pittsburgh Pirates
#165 Jayson Stark Sportswriter
#166 Manny Margot RC Rookie San Diego Padres
#167 Andres Galarraga Colorado Rockies
#168 Robbie Ray Arizona Diamondbacks
#169 Antonio Senzatela RC Rookie Colorado Rockies
#170 Jackie Bradley Jr. Boston Red Sox
#171 Jose Canseco Oakland Athletics
#172 Aaron Judge RC Rookie New York Yankees
#173 Odubel Herrera Philadelphia Phillies
#174 Danny Duffy Kansas City Royals
#175 Noah Syndergaard New York Mets
#176 Marcus Stroman Toronto Blue Jays
#177 Valarie Jenkins Disc Golfer
#178 Clayton Kershaw Los Angeles Dodgers
#179 Kirby Smart College Football Coach
#180 Corey Kluber Cleveland Indians
#181 Mark McGwire St. Louis Cardinals
#182 Kyle Hendricks Chicago Cubs
#183 Amir Garrett RC Rookie Cincinnati Reds
#184 Jose Altuve Houston Astros
#185 Wil Myers San Diego Padres
#186 Josh Bell RC Rookie Pittsburgh Pirates
#187 Eric LeGrand Football Player
#188 Gregory Polanco Pittsburgh Pirates
#189 Joe Manganiello Actor
#190 Matt Carpenter St. Louis Cardinals
#191 Jay Glazer Sportswriter
#192 Willson Contreras Chicago Cubs
#193 Todd Frazier Chicago White Sox
#194 A.J. Pollock Arizona Diamondbacks
#195 Matt Kemp Atlanta Braves
#196 Jose Bautista Toronto Blue Jays
#197 Ben Zobrist Chicago Cubs
#198 Javier Baez Chicago Cubs
#199 Curtis Granderson New York Mets
#200 Francisco Lindor Cleveland Indians
#201 Orlando Arcia RC Rookie Milwaukee Brewers
#202 Jurickson Profar Texas Rangers
#203 Carlos Gonzalez Colorado Rockies
#204 Manny Machado Baltimore Orioles
#205 Alex Bregman RC Rookie Houston Astros
#206 Aaron Nola Philadelphia Phillies
#207 Edwin Diaz Seattle Mariners
#208 Felix Hernandez Seattle Mariners
#209 Mitch Haniger RC Rookie Seattle Mariners
#210 Didi Gregorius New York Yankees
#211 Ben Smith CrossFit Athlete
#212 Don Mattingly New York Yankees
#213 Blake Snell Tampa Bay Rays
#214 Nick Jonas Musician
#215 Yasmany Tomas Arizona Diamondbacks
#216 Michael Conforto New York Mets
#217 Brooks Robinson Baltimore Orioles
#218 Tim Anderson Chicago White Sox
#219 Johnny Cueto San Francisco Giants
#220 Chipper Jones Atlanta Braves
#221 Yadier Molina St. Louis Cardinals
#222 Jake Thompson RC Rookie Philadelphia Phillies
#223 Lucas Giolito Chicago White Sox
#224 U.S. National Park Service Centennial Anniver
#225 Ian Kinsler Detroit Tigers
#226 Ryne Sandberg Chicago Cubs
#227 Jon Gray Colorado Rockies
#228 Ryan Zimmerman Washington Nationals
#229 Rougned Odor Texas Rangers
#230 Kyle Seager Seattle Mariners
#231 Hank Aaron Atlanta Braves
#232 Jose Abreu Chicago White Sox
#233 Jake Lamb Arizona Diamondbacks
#234 Charlie Blackmon Colorado Rockies
#235 Roger Clemens Boston Red Sox
#236 Jason Kipnis Cleveland Indians
#237 Andrew Benintendi RC Rookie Boston Red Sox
#238 Andrew Miller Cleveland Indians
#239 Jameson Taillon Pittsburgh Pirates
#240 Masahiro Tanaka New York Yankees
#241 Zach Britton Baltimore Orioles
#242 Luke Weaver RC Rookie St. Louis Cardinals
#243 Alex Reyes RC Rookie St. Louis Cardinals
#244 Khris Davis Oakland Athletics
#245 Roman Quinn RC Rookie Philadelphia Phillies
#246 William Shatner Actor
#247 Victor Martinez Detroit Tigers
#248 Wilson Ramos Tampa Bay Rays
#249 Sage Steele Sportscaster
#250 Lyle Thompson Lacrosse Player
Shipping is specified up above. Two options for shipping available for domestic and international customers. Each additional card to the US is .25, International customers each additional card will be .50. Please use shopping cart to pay one shipping price and receive all discounts possible.
This listing created with GLETech Multiple Selling Channel tools.