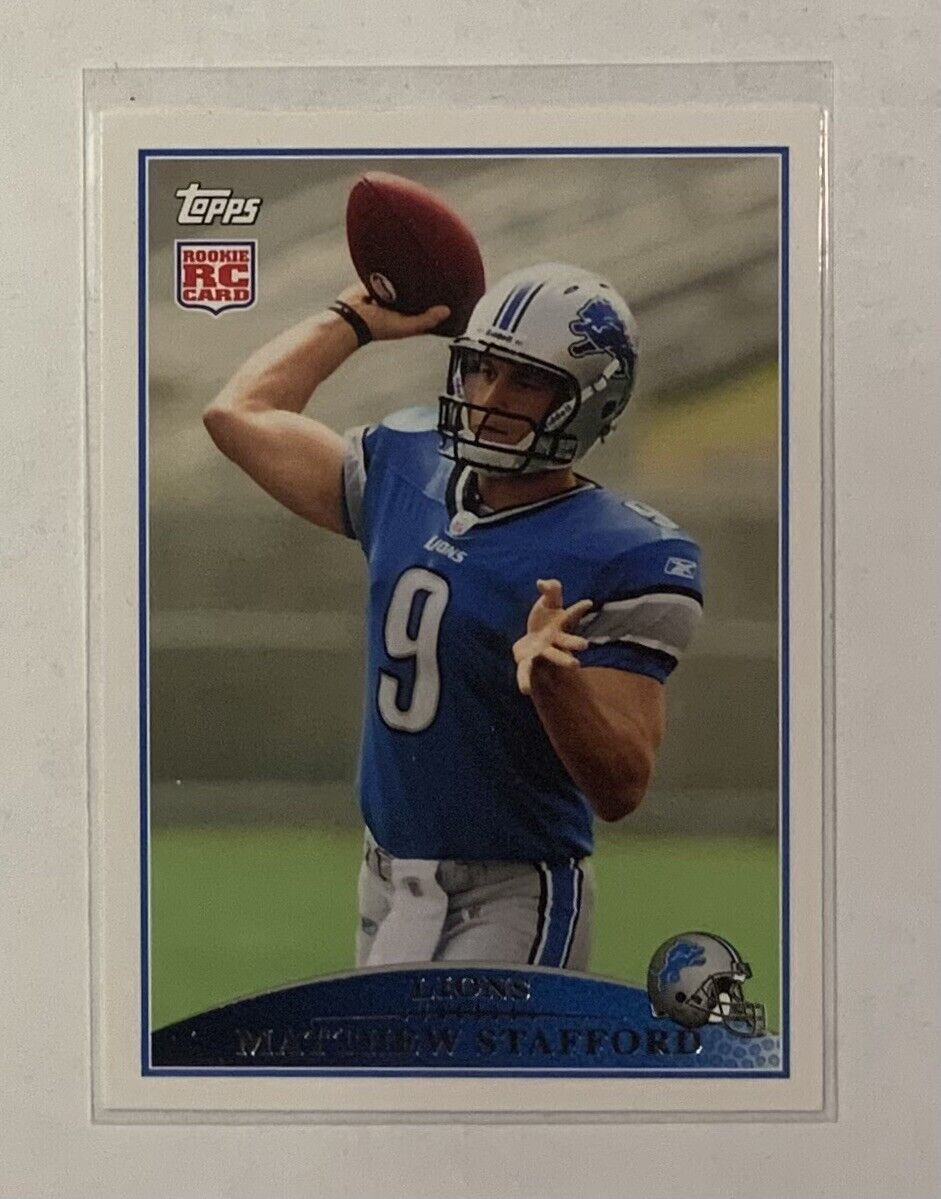 Price: 59.99 USD
Card Details:
2009 Topps Matthew Stafford Rookie Card RC #430 Rams
2009 Topps Matthew Stafford Rookie Card RC #430 Rams.
Card is a licensed reprint
Description: The card is just as seen on the title and picture unless there are multiple available
Condition: All items are assumed to be in NM-Mint condition or better unless otherwise noted. Please keep in mind Nm-Mint condition is what I believe would grade a PSA 8 or better. I state major flaws in the first line of the description by saying something like (bent corner in the top right of the card). You may ask for details on the surface and I would love to let you know.
Shipping: Items above $20 will be shipped(USPS First Class). Items below $20 will be shipped with eBay envelope tracking. *YOU MAY ASK FOR A DIFFERENT SHIPPING METHOD*. All items will be sent in a soft sleeve and top loader. Items will be packaged with all protection needed such as sleeve, top loader, filler cards/cardboard, and in a team bag, put in a bubble mailer/ envelope.
Payment: Payment is expected within 48 hours after purchase. If you have any issues or need extra time to make a payment just let me know and we can work something out.
Questions: I am open to answering any questions. This could be about your purchase such as condition, payment, extra pictures, combined shipping, etc. Just go ahead and shoot me a text and I will try to respond ASAP!
Returns: Returns are not expected for any reason. I do everything possible to state what I can about the card. Returns are very inconvenient as other offers may have been deleted to take yours, activity will be deleted, the way the market is going the card may be half of the price when back into my hands. Thank you for understanding.
If your purchase comes in safe, as expected, and you had a good experience, I would appreciate you leaving a good review to let us know you had a good experience shopping with us! If any problems come up I ask you to contact me before leaving a bad review or contacting ebay. Thanks, Cardtransax.