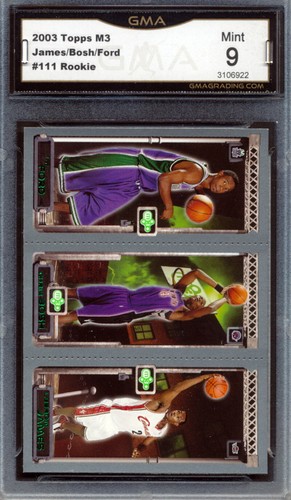 Price: 169.95 USD
Card Details:
2003-04 Topps Matrix #111 Ford Bosh LeBron James Rookie Card Graded GMA 9




2003-04 Topps Matrix #111 Ford Bosh LeBron James Rookie Card Graded GMA 9
2003-04 Topps Matrix #111 Ford Bosh LeBron James Rookie Card Graded GMA 9
We have more than one of these Graded Cards in stock so we have included stock photos in the listing. The Graded Card you will receive will be the same card, with the same grade (including the same subgrades if applicable).
GMA Grading offers one of the best values in the Sports Card Grading Industry, and uses top of the line holders, so you can rest assured that your card will be protected for years and years to come.
Your Graded Card will be shipped fully protected in a Bubble Mailer (or a box for $250+ cards) within one business day of receipt of payment. Tracking will be uploaded to eBay so you can follow the delivery status of your item. If there are any issues with the delivery of your Graded Card, please contact us and we will be happy to help you with the issue.
Have a question for us? We're happy to help! Click here to contact us.

What Our Customers Say About Our Graded Cards
A true 10 at a great price with free fast shipping!! A 10 star seller!!
Very nice card and easy transaction! Shipped fast! Highly recommend seller! A++
Fantastic seller, most of all a pure class act and appreciated professionalism
Great item @ great price, quick shipping – 100% satisfied, A+++ SELLER, Thanks!!
Good job on description. Delivery was fast. Packaging was good. Great seller.
Excellent ebayer great transaction and very nice cards thank you again.
Thank you, great seller, nice looking item and fast delivery! Wow!
Top Notch Ebayer…Super Fast Shipping…Professional Packing…Perfect Product
Very nice card and an awesome price, this seller has a great selection!!
Great card and price! Great seller and communication! A-1 seller!
Absolutely fantastic eBayer. Super fast shipping. A+ in every way. Thanks!
Amazing!!!! Great all around! I will definitely buy again!!!!
Excellent EBay seller, Awesome communication, Fast delivery, A++++
Wow, beautiful card, lightning fast shipping. Thanks a million.
Best on eBay! Highly Recommended!! Perfect transaction, thanks again! A+++
Beautiful card. Shipped ahead of schedule. Great seller. Thank you.
Perfect ! As advertised .. Fast Processing and delivery. Thanks !
GREAT DEAL!!!! FAST DELIVERY !!!! WELL PACKAGED!!!! ?????????? THANKS !!!!
Great Seller! Quick responses to any questions I had!
Great items Fast delivery and great Customer service. AAAA+++++
Fast, extremely well packed shipping with great rates. Mint card. Great seller!
The best product and transaction yet. Lighting fast shipping. Seller=TopNotch.
Seller's card was like the one pictured. Communication was good as well.
A+ Great cards at a great price…shipped fast! Thank you!!
New as stated! Arrived Early! Accepted best offer!! A++++++ Seller!!!!
Awesome card and a true 10, my nephew will be jazzed for this card!!
Great item and fast shipping! Excellent communication! A+++ Seller!!
We accept payment via PayPal or by Credit Card. We require that all orders placed be paid for within 3 days to avoid any delays. If payment is not received within 3 days of purchase we will automatically send the transaction to the eBay Resolution Center and an Unpaid Item Case will be opened. We encourage our customers to communicate with us if there are any unexpected payment issues however we hold the right to proceed through the eBay Resolution Center at our sole discretion.
At Premier Sports Collectibles we aim to ship every order we receive within 1 Business Day. Your Graded Card will be shipped fully protected to make sure it shows up to you in the same condition we shipped it in. Please refer to the Shipping and Payments tab for a full list of countries that we ship to. We are not responsible for any customs, duties, or taxes that are incurred upon delivery of your item.
If you would like to return your product please contact us to receive a Return Authorization. If your product is damaged or there are any discrepancies, please send us a photo of the item you received, showing any discrepancies or damages. If you are unsure about our return policy or have any questions, please contact and one of our representatives will be happy to help you.
Graded Card Guarantee
If any Graded Card you receive has any issues, we will issue an immediate and no questions asked refund upon receipt of the returned Graded Card. We only sell Graded Cards acquired by us directly from the Grading Companies, so we know each and every Graded Card has not been tampered with or altered in any way. You can also be certain that the Graded Card case will be in New Condition, exactly as the Grading Company sent to us. At the end of the day, we stand behind every Graded Card we sell!