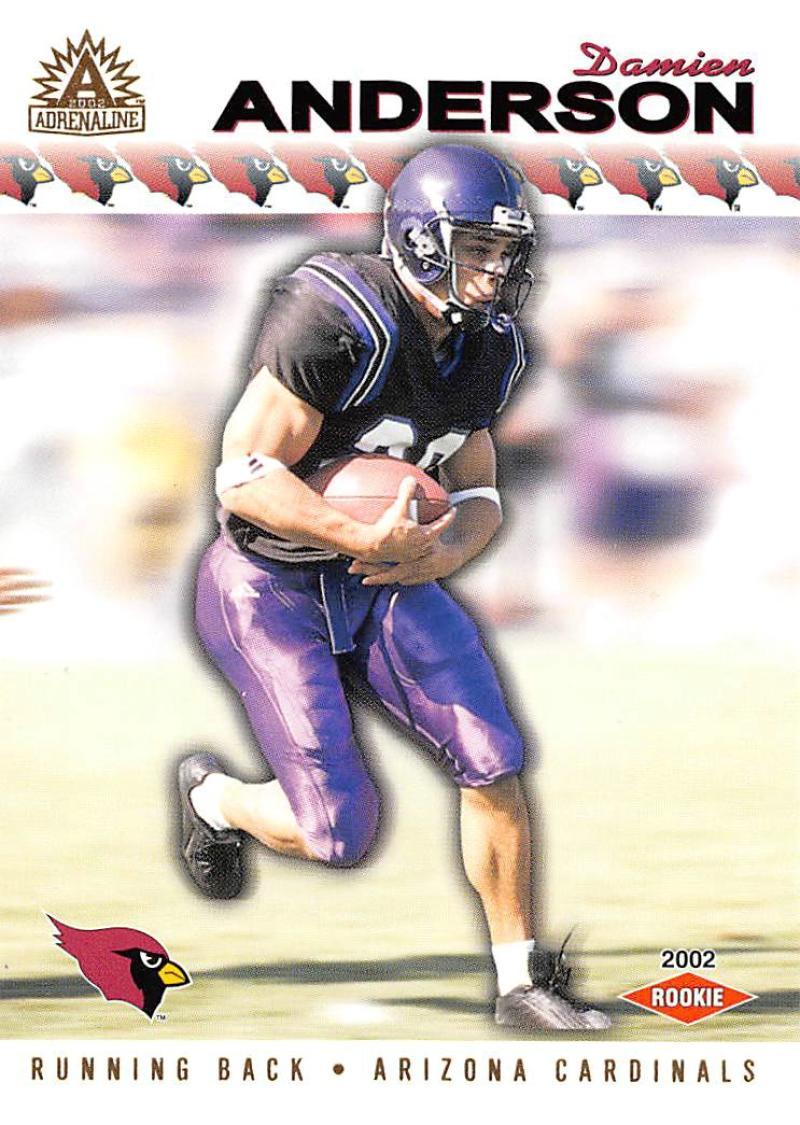 Price: 1.99 USD
Card Details:
2002 Pacific Adrenaline Football Cards Pick From List Includes Rookies 1-144




2002 Pacific Adrenaline Football Cards Pick From List Includes Rookies 1-144
#1 Damien Anderson RC Rookie Card Arizona Cardinal
#2 David Boston Arizona Cardinals
#3 Wendell Bryant RC Rookie Card Arizona Cardinals
#4 Thomas Jones
#5 Jason McAddley RC Rookie Card
#6 Josh McCown RC Rookie Card
#7 Jake Plummer
#8 Frank Sanders
#9 Josh Scobey RC Rookie Card
#10 Keith Brooking Atlanta Falcons
#11 T.J. Duckett RC Rookie Card
#12 Warrick Dunn
#13 Brian Finneran
#14 Kahlil Hill RC Rookie Card
#15 Shawn Jefferson
#16 Kurt Kittner RC Rookie Card
#17 Will Overstreet RC Rookie Card
#18 Michael Vick Atlanta Falcons
#19 Ron Johnson RC Rookie Card
#20 Jamal Lewis
#21 Ray Lewis
#22 Chris Redman
#23 Tellis Redmon RC Rookie Card
#24 Brandon Stokley
#25 Chester Taylor RC Rookie Card Baltimore Ravens
#26 Travis Taylor
#27 Anthony Weaver RC Rookie Card
#28 Drew Bledsoe
#29 Shawn Bryson
#30 Larry Centers
#31 Ryan Denney RC Rookie Card
#32 Travis Henry
#33 Richard Huntley
#34 Eric Moulds
#35 Peerless Price
#36 Josh Reed RC Rookie Card
#37 Isaac Byrd
#38 Randy Fasani RC Rookie Card
#39 DeShaun Foster RC Rookie Card
#40 Kyle Johnson RC Rookie Card
#41 Muhsin Muhammad
#42 Julius Peppers RC Rookie Card
#43 Lamar Smith
#44 Steve Smith
#45 Chris Weinke
#46 Marty Booker Chicago Bears
#47 Chris Chandler
#48 Eric McCoo RC Rookie Card
#49 Jim Miller
#50 Adrian Peterson RC Rookie Card
#51 Marcus Robinson
#52 David Terrell
#53 Anthony Thomas
#54 Brian Urlacher Chicago Bears
#55 Corey Dillon
#56 Gus Frerotte
#57 Chad Johnson
#58 Jon Kitna
#59 Justin Smith
#60 Takeo Spikes
#61 Lamont Thompson RC Rookie Card
#62 Peter Warrick
#63 Michael Westbrook
#64 Tim Couch
#65 Andre Davis RC Rookie Card
#66 JaJuan Dawson
#67 William Green RC Rookie Card
#68 James Jackson
#69 Kevin Johnson
#70 Jamir Miller
#71 Quincy Morgan
#72 Jamel White
#73 Antonio Bryant RC Rookie Card Dallas Cowboys
#74 Quincy Carter
#75 Woody Dantzler RC Rookie Card
#76 Joey Galloway
#77 Ennis Haywood RC Rookie Card
#78 Chad Hutchinson RC Rookie Card
#79 Rocket Ismail
#80 Emmitt Smith Dallas Cowboys
#81 Roy Williams RC Rookie Card
#82 Mike Anderson Denver Broncos
#83 Terrell Davis
#84 Brian Griese
#85 Herb Haygood RC Rookie Card
#86 Ashley Lelie RC Rookie Card
#87 Ed McCaffrey
#88 Deltha O'Neal
#89 Clinton Portis RC Rookie Card
#90 Rod Smith
#91 Scotty Anderson Detroit Lions
#92 Eddie Drummond RC Rookie Card
#93 Az-Zahir Hakim
#94 Joey Harrington RC Rookie Card
#95 Mike McMahon
#96 James Mungro RC Rookie Card
#97 Bill Schroeder
#98 Luke Staley RC Rookie Card
#99 James Stewart
#100 Marques Anderson RC Rookie Card Green Bay Pac
#101 Najeh Davenport RC Rookie Card
#102 Brett Favre Green Bay Packers
#103 Robert Ferguson
#104 Bubba Franks
#105 Terry Glenn
#106 Ahman Green
#107 Craig Nall RC Rookie Card
#108 Javon Walker RC Rookie Card
#109 James Allen Houston Texans
#110 Jarrod Baxter RC Rookie Card Houston Texans
#111 Corey Bradford Houston Texans
#112 David Carr RC Rookie Card
#113 Delvon Flowers RC Rookie Card
#114 Jabar Gaffney RC Rookie Card
#115 Jermaine Lewis
#116 Travis Prentice
#117 Jonathan Wells RC Rookie Card
#118 Brian Allen RC Rookie Card Indianapolis Colts
#119 Chad Bratzke
#120 Marvin Harrison Indianapolis Colts
#121 Qadry Ismail
#122 Edgerrin James Indianapolis Colts
#123 Peyton Manning Indianapolis Colts
#124 Rob Morris
#125 Dominic Rhodes
#126 Reggie Wayne
#127 Tony Brackens Jacksonville Jaguars
#128 Mark Brunell Jacksonville Jaguars
#129 Donovin Darius
#130 David Garrard RC Rookie Card
#131 John Henderson RC Rookie Card
#132 Stacey Mack
#133 Bobby Shaw
#134 Jimmy Smith
#135 Fred Taylor
#136 Omar Easy RC Rookie Card
#137 Eddie Freeman RC Rookie Card
#138 Tony Gonzalez
#139 Trent Green
#140 Priest Holmes
#141 Eddie Kennison
#142 Snoop Minnis
#143 Johnnie Morton
#144 Ryan Sims RC Rookie Card
Shipping is specified up above. Two options for shipping available for domestic and international customers. Please note economy shipping is sent in a small white envelope or reinforced cardboard mailer.  If you do not want to risk unnecessary damage to your card, please select the padded envelope option.  
Please use the eBay.com shopping cart to pay one shipping price and receive all discounts possible.  Due to the constant Postal Rate increases, I will no longer quote shipping and handling prices in my description.  Any questions please do not hesitate to ask.
All cards are in at least Nr-Mt condition unless otherwise noted in the title.  If the card photo doesn't match the description, please contact me before purchasing.  You are purchasing the card in the title only, not necessarily. the one pictured.  Returns are accepted, but I reserve the right to charge a 30% re-stocking based on reason for return.
Thank you for clicking on my auction.  Sometimes the listing software I use imports the complete checklist into the description.  I only have the cards available from the drop down menu.  Please select carefully from the drop down list as all sets in the title are included in this listing. Thank you for understanding.