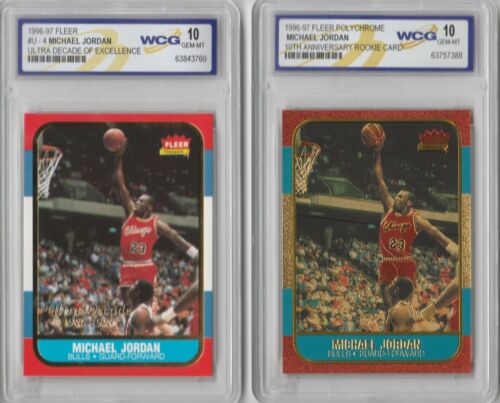 Price: 59.00 USD
Card Details:
(2) 1996 FLEER DECADE EXCELLENCE JORDAN ULTRA & BRUSHED GOLD 1986 WCG 10 PSA




FOR SALE IS A LOT OF 2 1996 FLEER DECADE OF EXCELLENCE CARDS. 
BUYER WILL RECEIVE 1 ULTRA AND 1 BRUSHED GOLD CARD.
EACH CARD IS GRADED WCG GEM MINT 10.   
GUARANTEED AUTHENTIC BY FLEER.  
THEY LOOK FLAWLESS.
PSA GRADED CARDS ARE NOT INCLUDED WITH THIS SALE AND SHOWN FOR COMPARISON PURPOSES ONLY.
BUYER WILL RECEIVE 2 CARDS SHOWN IN THE FIRST 2 PICS.
CANT AFFORD $70,000 FOR THE REAL THING ?
NEXT BEST ALTERNATIVE.
REPRINTED BY FLEER ABOUT 10 YRS LATER.
This special polychrome Michael Jordan Rookie card was released by Fleer in 1996 to celebrate the 10th Anniversary of the Michael Jordan 1986 Rookie Card. Fleer released two editions of the 1986 Fleer Rookie Card 10 years later.  One was a paper version called Decade of Excellence and one was a unique Polychromatic version that featured 2 types of borders (Brushed-Gold & Refractor-Gold). It was a new trading card technology that was way ahead of its time, but never made it to market due to Fleers demise. It is a very sought after card by all Jordan collectors. The 1986 Fleer card is often called the "Holy Grail" of all basketball cards. 100% authentic and original.
IF NOT HAPPY CAN RETURN FOR ANY REASON.
MBX ANY QUESTIONS.