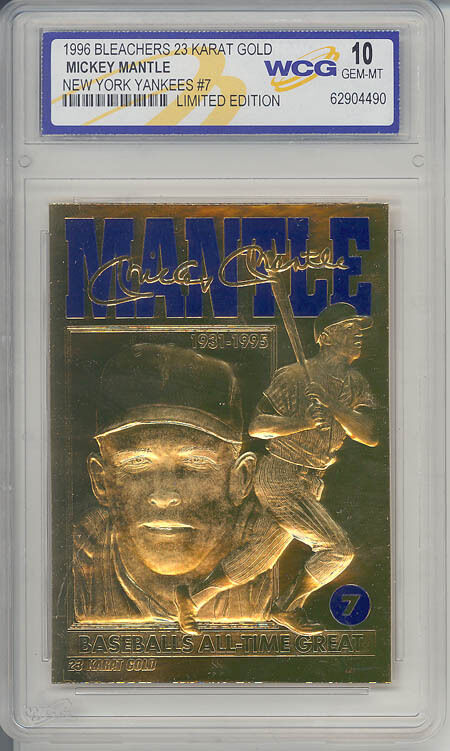 Price: 13.95 USD
Card Details:
1996 MICKEY MANTLE NY YANKEES #7 23K GOLD CARD – GRADED GEM-MINT 10
New York Yankees
Genuine 23 Karat Gold Card
GRADED GEM-MINT 10

PLAYER: Mickey Mantle

YEAR: 1996

COMPANY: Bleachers

GRADE: Gem-Mint 10

LIMITED EDITION: Yes

SERIAL NUMBERED: Yes
| | |
| --- | --- |
| Original Price for 1 Gold Card | $29.95 |
| Cost of Grading 1 for Gold Card | $9.00 |
| My Total Cost for 1 Graded Gold Card | $38.95 |
| | |
| | |
Here is your chance to pick up a superstar gold card, graded in GEM-MINT 10 Condition. This type of auction has never been seen anywhere and the price is downright crazy. Please see my other auctions for Graded Gem-Mint Gold Cards.I am listing MAJOR SUPERSTARS only!! If you are a dealer, collector, or whoelsaler, then this is the auction for you. This price is far below wholesale pricing. The grading alone cost me $9.00 per card.
About Gold Cards: A skilled artisan hand inscribes a detailed portrait of the superstar in raised relief on a steel die. This die is then used to strike thin sheets of paper-backed 23kt gold foil. The result is a dramatic, detailed three-dimensional image in high relief on a mirror-smooth surface of gleaming gold. Most genuine 23kt gold card are individually machine serial numbered of the limited edition.
About WCG Grading: World Class Grading is as well respected as the Big Two Grading Services (PSA & BGS). Their expertise in grading trading cards is clear to be seen, as they have extremely qualified and knowledgeable professionals grading the cards, with a long history of integrity in our Hobby. I myself have 20+ years experience in the hobby, and after speaking with the graders and management at WCG, I feel confident that they will be a top grading card company for years to come. Their accuracy and consistency have so far been outstanding. WCG produces a product of the highest quality on the market, with the best stackable state-of the-art sturdy holders, which are ultrasonically sealed to be airtight.