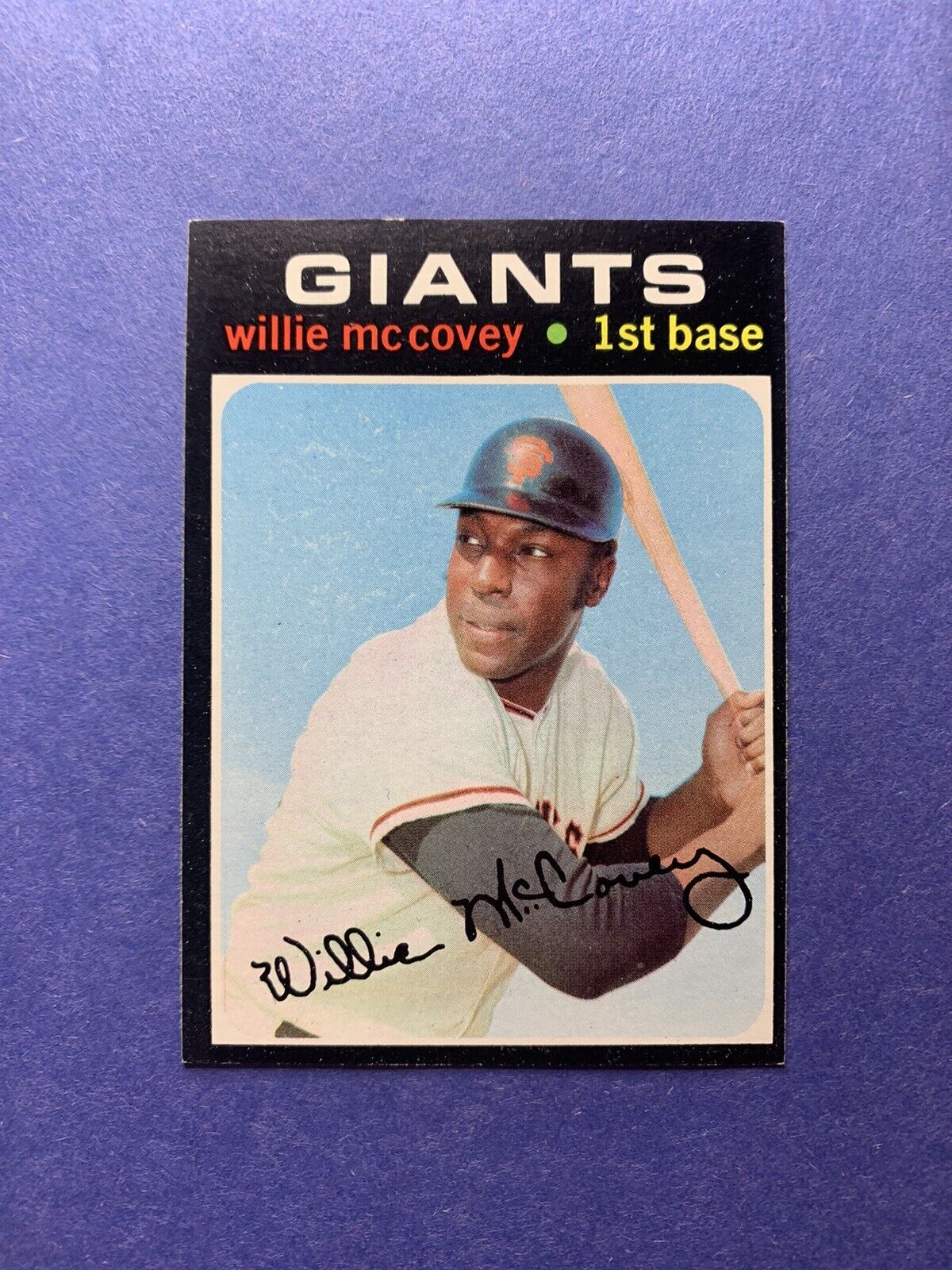 Price: 39.99 USD
Card Details:
1971 Topps #50 Willie McCovey EXMINT – San Francisco Giants




1971
Topps
#50 Willie McCovey EXMINT – San Francisco Giants
Willie McCovey ranks second all time to Babe Ruth for homeruns hit by a left-handed batter with 521.  As of 2021, he ranks 20th onthe All-time home run list.  He was a 6-time All-star, won the Rookie ofthe Year award in 1959 and the National League Most Valuable Player award in1969.  For his career, he hit .270 with 2,211 hits and 1,555 runs battedin. He was elected to the Baseball Hall of Fame in 1986.
For fans of major league baseball, this is an opportunity to own the 1971 Topps Card #50 of this baseball Hall of Famer.
Item Condition
Having been burned too many times on eBay by dishonest listings and misleading descriptions and photos, I strive to provide  numerous high-quality photos so that you can accurately gauge the condition of the card to ensure you know what you are paying for.
Notes on Card Condition:  Centering is the biggest issue on this card.  Corners are good only showing light wear not uncommon for a card of this age.  No corner creases on this card.  Some light chipping here and there along the border most visible on the top edge.  There are no obvious print blemishes on the front or back of the card, no creases and no stains.  Card has very good color showing some normal wear.  Overall this is a very strong card and I will let you judge the condition from the photos above.
This card would be a great gift for any San Francisco Giants fan.
The card in the scan is the one you will receive and we have a 30-day return policy (if returned in same condition), so bid with confidence.
All cards are original.
Frequently Asked Questions
When is payment due?   Payment is due within 3 days of winning auction and item will not ship until payment received.

What is your return policy?   Cards may be returned within 14 days of delivery in the same condition for a full refund to be issued. If the card is deemed to not be in the same condition as it was at the date of purchase, issuance of a refund will be at the discretion of the seller.
Do you charge sales tax?   Sales tax is charged according to eBay policy.