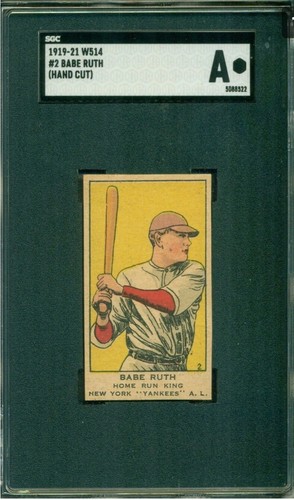 Price: 17,333.33 USD
Card Details:
1919-21 W514 BABE RUTH # 2 HAND CUT SGC AUTHENTICATED, IN PHENOMENAL COND
🔥 🔥-LRB- -21 W514 BABE RUTH # 2 HAND CUT SGC AUTHENTICATED, IN PHENOMENAL COND 🔥 🔥.   BEAUTIFUL LOOKING CARD OF THE BEST BASEBALL PLAYER OF ALL TIME IN IMMACULATE CONDITION AND WAS SENT AWAY FOR GRADING AT SGC TO SEE IF THE CARD WAS AUTHENTIC AND IT CERTAINLY WAS!!   IT WAS ALSO AUTHENTICATED BY EBAY WHEN I RECEIVED IT AND I AM PLANNING ON SENDING IT TO PSA FOR A NUMBER GRADE AS THEIR GUIDELINES FOR GRADING HAND CUT CARDS ARE NOT TO SPECIFIC AND THEIR WEBSITE STATES "AS LONG AS THE BORDERS OF THE CARD CAN BE SEEN, AND THE CARD HAS GOOD EYE APPEAL THEN IT WILL RECEIVE A NUMERICAL GRADE, IT CAN'T BE CUT UNDER THE BORDER LINES OR IT WILL JUST RECEIVE AN AUTHENTIC GRADE AND NOT A NUMBER GRADE".   BY LOOKING AT THE CARD NOW MYSELF IN PERSON AND COMPARING IT TO OTHER EXACT SAME W514 BABE RUTH HAND CUT CARDS THAT HAVE RECEIVED A GRADE THAT I AM FINDING ON THE INTERNET, THERE IS NOTHING AT ALL THAT SHOWS ME THAT THIS CARD WILL NOT RECEIVE A NUMERICAL GRADE WHEN I SEND IT IN TO THEM.   WHICH IS WHY I AM LISTING IT AT SUCH A HIGH PRICE.   I WOULD RATHER NOT SELL IT UNTIL I GET IT GRADED BY PSA AND BACK IN MY POSSESSION WITH A NUMERICAL GRADE BUT I FIGURED I WOULD LIST IT ANYWAY AND SEE IF I GET ANY OFFERS FOR IT.   THE CARD HAS ALREADY BEEN AUTHENTICATED BY 2 WELL KNOWN AND RESPECTED GRADING COMPANIES (SGC AND EBAY AUTHENTICATION) SO IT IS 100% GUARANTEED TO BE AUTHENTIC, AND SINCE THE BORDERS ARE SO PRONOUNCED AND CAN BE SEEN VERY EASILY AND I HAVE FOUND MANY EXAMPLES OF CARDS FROM THE EXACT SAME YEAR, OR EVEN THE EXACT SAME RUTH CARD IN THE SAME YEAR THAT HAVE BEEN HAND CUT TO A MUCH SMALLER SIZES THAN THIS CARD (SOME WITH CORNERS OF THE CARD JUST COMPLETEY RIPPED OFF!) AND ALL OF THEM THAT I HAVE FOUND HAVE BEEN GIVEN A NUMERICAL GRADE IS WHAT MAKES ME BELIEVE THAT WITHOUT A DOUBT THIS CARD WILL RETURN BACK TO ME WITH A NUMERICAL GRADE FROM PSA AND NOT JUST DEEMED AUTHENTIC. IN ANY CASE YOU LOOK AT IT AND REGARDLESS OF HOW, AND WITH WHAT GRADE PSA DEEMS IT TO BE, THIS CARD IS REALLY IN FANTASTIC CONDITION FOR A CARD THAT IS OVER 100 YEARS OLD AND IS NOT JUST AN INCREDIBLE CARD TO OWN BUT THE FINEST EXAMPLE OF A HAND CUT CARD THAT I HAVE EVER PERSONALLY SEEN IN MY ENTIRE LIFE (CARD SHOWS, IN PERSON, OTHER PEOPLES COLLECTIONS OR IN THE INTERNET) AND NOW THAT I AM THE REAL OWNER OF IT AND CAN SEE IT WITH MY OWN EYES I AM SO VERY, VERY EXCITING AND ANTICIPATING WHAT THE ACTUAL TOP RATED GRADING COMPANY (PSA) WILL HAVE TO SAY ABOUT IT !!!!   GOOD LUCK WITH THE LISTING AND HOPEFULLY THE CARD WILL BE BACK TO ME FROM PSA WITH A NUMERICAL GRADE PRIOR TO ANYONE EVEN MAKING ME AN OFFER FOR IT SO WE CAN ALL KNOW (FOR SURE) THE ACTUAL VALUE OF THE CARD AS A PSA BABE RUTH W514 FROM THE SAME YEAR GRADED AT A PSA-8 RECENTLY SOLD FOR $125,000!!! AND THIS CARD LOOKS TO ME NOW THAT I HAVE IT IN PERSON (MAY I EVEN DARE TO SAY) LIKE IT IS IN BETTER CONDITION THAN THE PSA-8 CARD WAS THAT SOLD FOR THAT MUCH MONEY SO RECENTLY IN AN AUCTION!!! GOOD LUCK TO ALL, INCLUDING MYSELF!!!
.