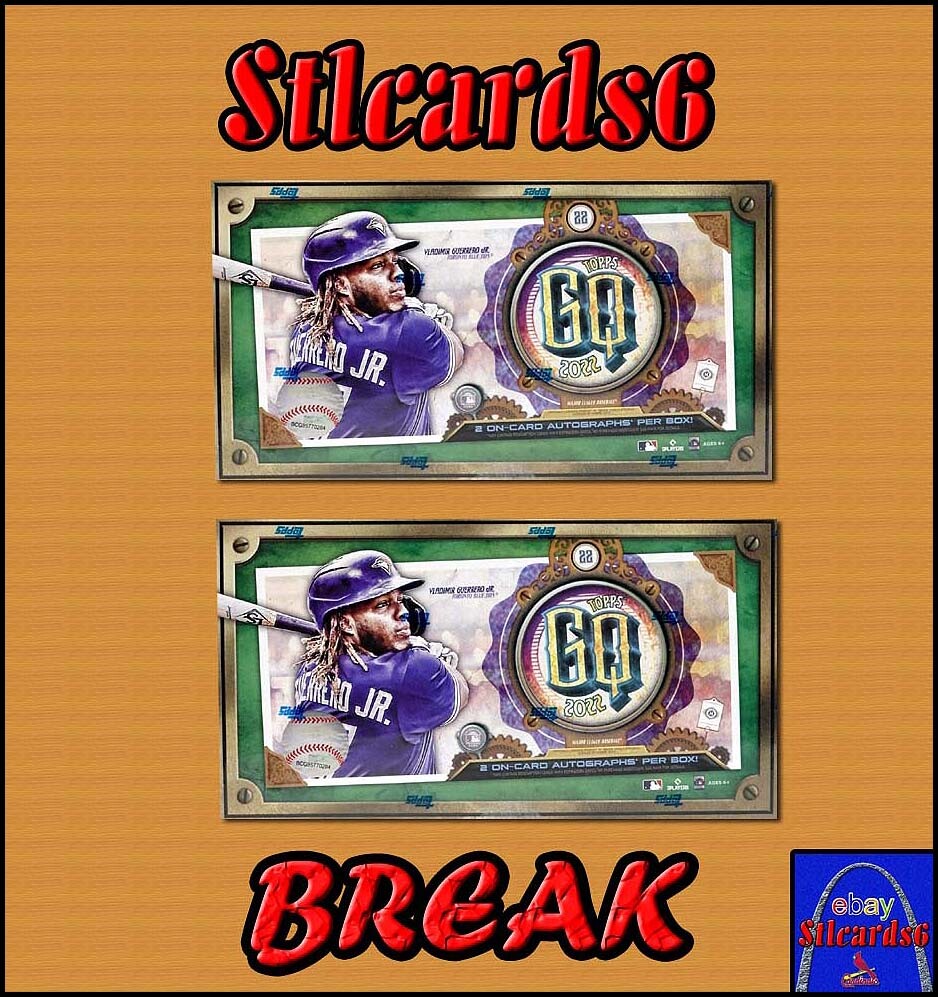 Price: 11.99 USD
Card Details:
🔥Pick Your Team🔥 [#6] [2x] 2022 TOPPS GYPSY QUEEN HOBBY BOX 🔥BREAK🔥




DM me on Instagram or Facebook for discounts!
WHAT IS THIS?:
-THIS IS A SALE FOR EXCLUSIVE RIGHTS TO PLAYERS FROM THE TEAM PURCHASED.
-BY READING THIS YOU ACCEPT THAT YOU UNDERSTAND THE CONCEPT OF A BREAK AND THERE WILL BE NO REFUNDS FOLLOWING THE START OF THE LIVESTREAM.
WHO AM I?:
-MY NAME IS JIM & I LOVE BASEBALL & BASEBALL CARDS.
-I AM FROM ST. LOUIS, MISSOURI AND AM I BIG ST. LOUIS CARDINALS FAN!
WHY CHOOSE ME?:
-Unlike many breakers I have seen I show every single card in the pack. I do not skip cards because they may have less value.
-I never put my thumb or finger on the front or back of the card. Rest assured it will be in the best possible condition.
-I will penny sleeve any #'d or auto card immediately following their pull.
-I take extra time to post results in the form of a picture as well as the list of cards (both on the break's google doc) you have won in your break prior to shipment.
-I may not be breaking multiple Jumbo Hobby Boxes a night but I will definitely give you quality that is unmatched when it comes to knowing what you have won and the condition of the cards when they arrive!
–You will not find the transparency and level of documentation from any other break on the web GUARANTEED!
DOCUMENTATION SAMPLE:
-Images of results from every team!
WHEN IS THIS?:
-THIS BREAK WILL TAKE PLACE LIVE ON MY YOUTUBE CHANNEL AT A TIME DETERMINED IMMEDIATELY FOLLOWING THE SALE OF ALL TEAMS. EVERYONE WILL RECEIVE A DM WHEN THIS DECISION IS MADE.
-IF BREAK IS TAKING PARTICULARLY LONG TO SELL (OVER A COUPLE WEEKS) A DATE WILL BE DETERMINED WHICH WILL BE PRECEEDED BY A 5-DAY AUCTION TO FILL THE REMAINING TEAMS. I UNDERSTAND NOBODY LIKES TO PAY FOR NOTHING FOR AN EXTENDED PERIOD OF TIME, BUT PLEASE BE SOMEWHAT PATIENT AND DO NOT EXPECT 30 TEAMS TO SELL IN A FEW DAYS.
WHERE IS THIS?:
-THIS WILL TAKE PLACE 
LIVE
 ON MY YOUTUBE CHANNEL (STLCARDS6)
.
-PLEASE CHECK OUT OUR PAST BREAKS TO SEE IF THIS MEETS YOUR STANDARDS
-I WILL BE UPDATING ALL TEAM RESULTS (WITH PICTURES) ON THE GOOGLE DOC.
MY STANDARDS:
-ALL CHROME, ROOKIE CARDS & INSERTS WILL BE PLACED IN A PENNY SLEEVE.
-ALL HITTER 1ST BOWMAN PAPER CARDS WILL BE PLACED IN A PENNY SLEEVE.
-ALL AUTOGRAPH & #'D CARDS WILL BE PLACED IN A SLEEVE AND TOP-LOADER.
-ALL CARDS WILL BE PLACED IN A TEAM BAG.
-ALL TEAM BAGS WILL BE PLACED BETWEEN CARD BOARD PRIOR TO SHIPMENT (GRADING STANDARD).
-ALL CONTENTS WILL BE SHIPPED VIA USPS FIRST CLASS IN BUBBLE-MAILERS AND WELL-PROTECTED WITH THE MINDSET THAT THESE CARDS MAY BE GRADED.
-ALL BUYERS WILL RECEIVE IMAGES OF ALL THEIR CARDS PM'D TO THEM ON EBAY FOLLOWING THE BREAK.
-YOUR CARDS WILL BE DROPPED OFF AT THE POST OFFICE THE NIGHT OF THE BREAK.
RULES:
-IF NO CARDS FROM YOUR TEAM ARE PULLED THEN YOU WILL BE REFUNDED THE SHIPPING AMOUNT IN FULL.
-IF A BUYER PURCHASES MORE THAN ONE TEAM THE SHIPPING CHARGE FOR THE 2ND TEAM WILL BE $0.50 (EXCESS WILL BE REFUNDED).
-ANY CARDS WITH MULTIPLE TEAMS WILL BE RANDOMLY CHOSEN VIA RANDOM.ORG.